24 novembre 2015,
Planning to move to Toronto? We understand you are worried about how much it will cost, what could go wrong, and if you are forgetting something important.
We want to help make your move to Toronto as stress-free as possible. We aim to provide you with answers to questions about moving such as costs, DIY options, and tips to save money.
We also included a list of the 10 Best Toronto Moving Companies to give you a sample of movers serving the Greater Toronto Area.
Whether you are moving to Toronto from Vancouver or Montreal, or moving from the USA, we can help plan your Toronto move.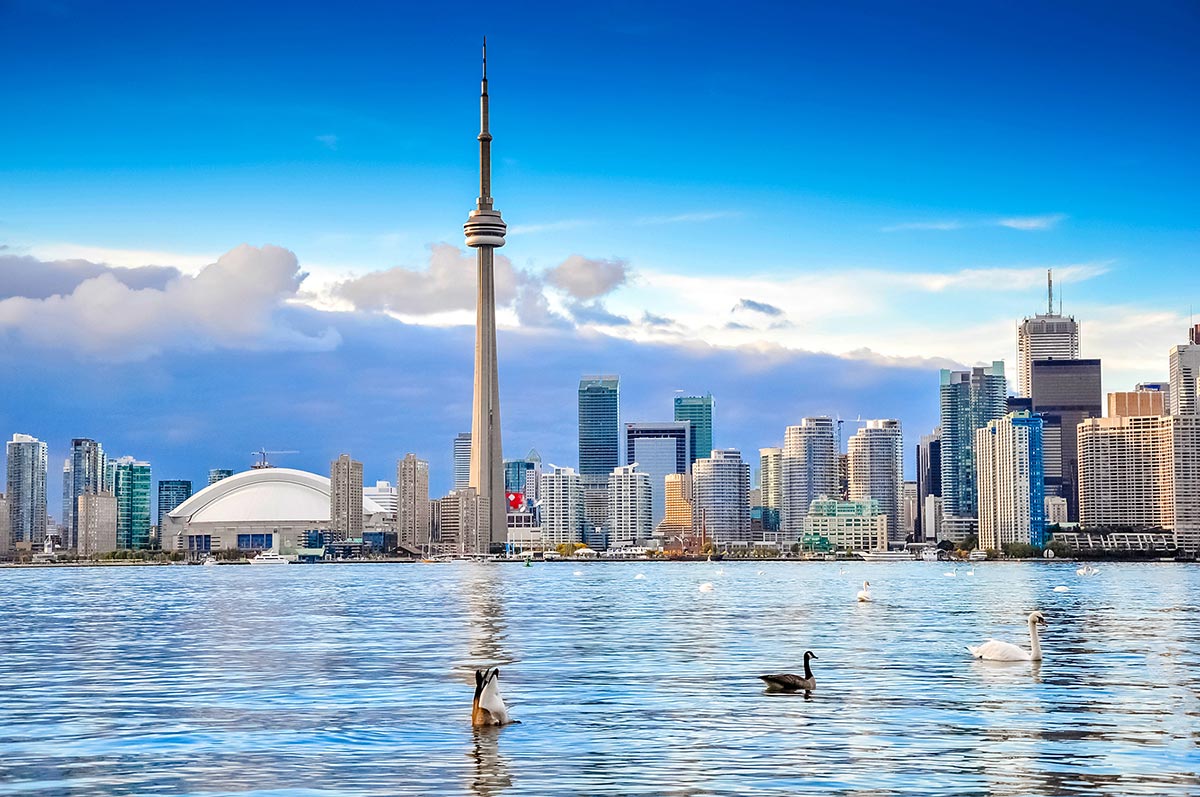 Do you need a professional Toronto Moving Company for your Move?
One of the most important things you will need to check when preparing for your relocation is how you plan to move.
Can you make the move on your own using a moving truck from U-Haul? Or do you need a professional Toronto moving company for your move?
The best way to know if you need a professional moving company is to assess the size of your move and the distance of your move.
How far are you moving?
How much is your inventory? Do you have boxes of clothes and books only or do you have a lot of furniture, appliances, and hard to move objects?
To give you an idea, rental trucks from U-Haul can carry stuff as follows:
| | |
| --- | --- |
| Truck Size | Size of Home |
| 10 feet | Small apartment |
| 14 feet | 2 bedrooms |
| 17 feet | 2-3 bedrooms |
| 24 feet | 3-4 bedrooms |
| 26 feet | 4 or more bedrooms |
You can calculate the cost of rental trucks from your point of origin to destination and where you need to return the truck. Factor in gas and mileage costs to see if you can really save money from hiring a U-Haul truck.
U-Haul Rental Has Other Miscellaneous Costs
You'll be doing all of the work – packing, loading, unloading, and driving, so be sure that you are in a condition to do so. You will surely be incurring additional costs such as when you ask friends to help you out and if you obtain moving insurance.
If you need moving equipment such as a dolly, moving pads, or other tools, you'll also need to rent them.
Once you have made an initial calculation of a DIY move, you can compare that with costs for hiring a Toronto moving company.
How Moving Companies Charge for Long Distance Moving to Toronto
Moving companies can be as varied as the items you see on a supermarket shelf.  Some are full-movers offering every conceivable moving service you need. Others have smaller operations and do mainly packing, loading, and transport.  Others can provide a full turn-key service which starts from packing, assembly and disassembly of furniture, transport and unpacking, and even clean-up and waste disposal.
Whether you are making a local or long distance move, your moving company is expected to provide free of charge moving equipment necessary such as floor runners, moving pads, dolly, tools for disassembly/assembly of furniture, etc.  They also provide shrink wrap, wardrobe boxes, and other supplies.
Distance of Travel and Weight of Goods Determine Cost
Moving companies won't charge you hourly rates for a long distance move such as a move from Ottawa to Toronto, or a move from Vancouver, Montreal, or New York.  Instead, you will be charged based on the distance of your move, the weight of your goods, and the services you choose such as packing, auto relocation, fine art crating, or piano moving.
The more complex your moving needs, the more expensive it could get.  It is always possible to minimize moving costs by limiting services to transport of your household goods while you take care of your own packing and unpacking.
To save on moving expenses, you could also:
Be flexible with your moving date (peak moving season has higher rates)
Dispose or donate items you no longer need to bring
Start packing well ahead of time so you have more time to do the work and need less help
Most importantly, chose your moving company wisely and compare moving quotes.
Check if your flat rate is guaranteed or not to exceed quote
The moving company will present you with a flat rate after a physical inspection of your household goods. This rate will be inclusive of your truck and movers.
Always ask questions about the moving company's quote. Check whether the flat rate is guaranteed or if it is a "not to exceed" moving quote.
Where are you moving from? Check out this Long Distance Moving Guide which explains everything you need to know about moving from the USA to Toronto, and about cost for moving containers and professional movers.
Making a Local Toronto Move? It's by the hour
It's much simpler if you are moving within the Toronto area. Local moves are charged hourly rates. Whether you just require a truck and moving crew, or you need your movers to help with your packing or disassembly of beds, it's all calculated by the hour.
Most common things moving companies charge their customers
Not all moving companies are similar. Each one strives to offer unique value to their customers and come up with innovative moving products and services. What are the usual charges of these moving companies?
Depending on the type of moving service you choose, you can be charged with any of the following:
Travel time
Most companies charge for their services beginning from the time they leave their office, arrive at your pick-up point, take you to your new address, and get back to their office. Many companies also have a minimum number of hours charge, which can vary from 2-3 hours.
Gas/Toll
For long distance moves, most companies charge for gas and toll fees.
Truck and crew
Many companies design their rates depending on the size of the truck and the number of movers you need with the truck.
Moving Insurance
All moving companies are required by law to provide a minimum of basic insurance.  Basic insurance offers $0.60 per pound of any item lost or damaged. Clearly, it won't be enough to cover a plasma TV, an expensive sofa, or computer.
Many professional moving companies offer comprehensive moving insurance for long distance moves.
You should check the type of insurance cover your moving company provides and if you need to obtain additional cover.  You always have the option to purchase moving insurance if your homeowner's insurance won't cover your goods in transit.
3 Important Reasons to Hire Movers for Long Distance Moving to Toronto
Long distance moves are more complicated than moving around the block.  Long distance moving companies are licensed to carry household goods across provincial or state lines, and even across the border.  More importantly, they are knowledgeable about transporting heavy cargo over long distances.
Why is it recommended to hire movers for long distance moves?
1. Safety and Convenience
Safety and convenience is the # 1 reason to hire movers for a long distance move.
It just isn't safe to drive 8-10 hours long distance with an attached trailer if you don't have experience or are unfamiliar with the route.  How would you troubleshoot truck problems if your fully-loaded truck breaks down half-way?
Accidents can happen along the road.  If you are driving a moving truck and you are involved in an accident, your insurance must cover any damage.
Your goods can also get damaged if improperly packed or loaded in the truck.
2. Comfort
If a professional moving company is taking care of the transport of your household goods, you are free to make arrangements for your own transportation. You can travel in comfort with complete assurance that your goods are in safe hands.
3. Cost Efficiency
If you hire a professional mover, you will know in advance how much your move will cost you. Your moving company is required to provide you with a written and detailed moving estimate so you can plan your moving budget.
With an honest and reliable long distance mover, there should be no hidden charges or add-ons to your moving bill.
Are deposits required for booking a moving company?
Depending on a moving company, you may be asked to give a deposit to guarantee a moving date. This is particularly common during peak moving season to allow a moving company to hold the date for your move.
Definitely, though, a deposit for a moving service will not be substantial. A reputable mover will never ask you for a big sum of money.  For example, if your moving quote is $3,000, a moving company will not usually require you to pay 50%.
Be wary of moving companies who ask for a large deposit upfront.
Save on Moving Expenses with the right moving package
When planning your move, it is important to know whether you need to go all the way with complete moving service or if you can save money and customize your move.
Moving companies offer different types of moving packages, depending on your needs and budget. Small local moves would be very different from long distance or cross border moves.
Below you will find different moving packages to choose from that can help you save money.
Semi Do it yourself moving
Many moving companies offer hourly rates for movers only. There are also moving companies that offer rental of containers you can pack with your boxes until ready to be delivered to your new address. This option is definitely good for individuals who have the time to do the packing up of their stuff or even loading and unloading of a moving container. These options are ideal for moves that are not time-sensitive.
Consolidated Moves
If you don't have a lot of belongings, you can choose to do a consolidated move. You can save on truck rental and moving crew by sharing the trip with another customer.
Full or partial packing services
Many people own valuable antiques, glass and mirrors, paintings, or art collections that need careful packing. You can choose to have your movers pack up everything or just a few select items.
Truck rental with movers
Did you know that you can rent a truck with 2 or 3 movers? If you can do most of the tasks but need help with loading and unloading and transport, this is a great option that can save you tons of money. Most movers have a minimum number of hours, 2 or 3 hours, depending on the company. You can ask about this option from moving companies.
Complete moving services
Complex moves may require more men to do the job, especially if you are moving from a large home or moving a long distance. Your movers will take care of everything you need when you obtain complete moving services. You won't need to lift a finger!
Specialized Moving Services
Selected moving companies offer specialized moving services such as piano moving, fine arts moving, or pool table moving.
Best Way to Find Movers – Compare 5 Movers Quotes
Finding a good Toronto moving company is so much easier with free movers' quotes.
It's not reliable to get moving quotes over the phone – talking to 6 or 7 companies providing different information can be misleading and confusing.
The best way to find movers is to compare 5 movers' quotes, all written down for your easy reference. Feel free to contact the moving company that appeals to you and ask them more questions about charges, services, and insurance.
A moving company will need to know the following in order to provide a moving quote:
Your current address
Your intended destination
Moving date
Size of home (studio, 2-bedroom, 3-bedroom, etc.)
Specialized items (piano, pool table, hot tub, fine art)
A reputable moving company will always insist on an in-home assessment before providing you with a final estimate.
10 Best Toronto Moving Companies for all types of Moves
How do you spot a good moving company? We want to remove the guesswork and make it as easy for you as possible to find the best moving company for your move.
Our partner moving companies are all licensed, insured, and experienced in residential relocation.
When choosing a moving company, always ensure that it is registered with the Better Business Bureau or the Canadian Association of Movers and other reputable moving associations.
Here are some of the leading moving companies specializing in Toronto and its neighborhoods.
My Ninja Movers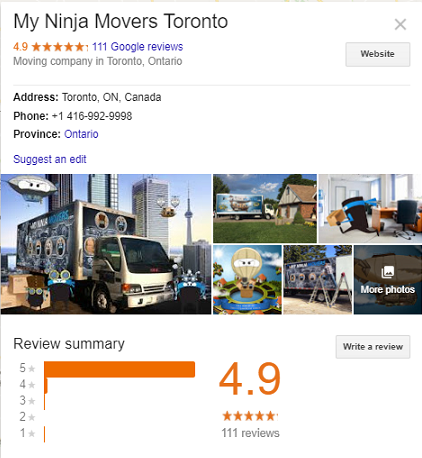 My Ninja Movers – reviews
This local Toronto moving company is licensed and insured that performs local and long distance moves.
To make local moving affordable, it offers very practical moving packages that start from $130 per hour (for studio to 2-bedroom apartment) up to $250 per hour (for 4- bedroom condo, house, or townhouse).  These packages include required number of movers, moving truck, and small storage units.  It also includes free use of dollies, pads, moving blankets, and wardrobe boxes.
The company also conducts long distance moves within the Greater Toronto Area, southern Ontario, and even Montreal.
We Move GTA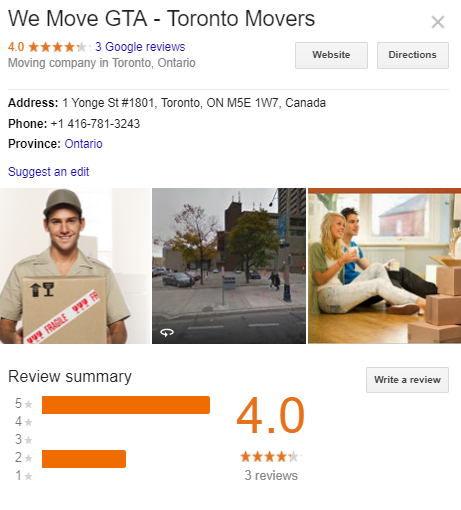 We move GTA – reviews
This Toronto moving company serves the entire GTA and southern Ontario.  The company offers residential and office moving, and specializes in piano moving and pool table moving services.  They provide low-cost but quality home and business relocation services.
This moving company is one of a few movers that publish moving rates. For local moves, they offer $99.99 per hour for 16 ft. truck and 2 movers, or $119.99 for 26 ft. truck with 3 movers.  They require a minimum of 3 hours for each move and a one-time truck fee.
For moves outside the GTA, they charge mileage fee, and may charge additional fees for stairs and heavy items.

Manhattan Moving Service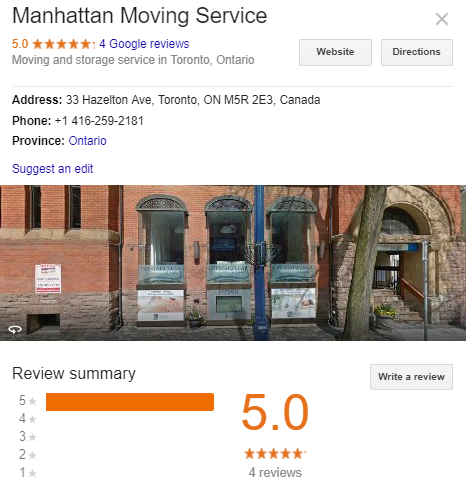 Manhattan Moving Service
This moving company started business operations in the USA in 1935 but opened its office in Toronto in 1993.  It has serviced thousands of happy clients, as evidenced by its 5- star rating on Google.  It is Canadian owned and operated and have won awards as best moving company for several years from Toronto Community Readers awards.
It proudly offers antiques moving, condo and residential moving services, packing services, and office moving.
Firemen Movers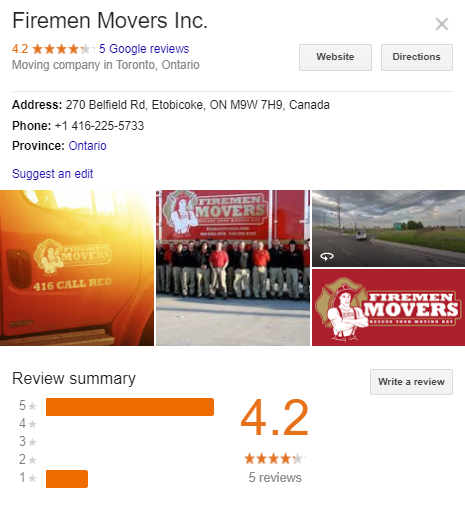 Firemen Movers – reviews
This moving company is owned and operated by professional firefighters. The company owns their moving trucks and a 23,000 sq. foot storage space for the convenience of their customers.  It also has a supply store selling complete line of moving equipment and supplies.
It was founded in 2008 and has become one of the fastest growing moving companies in the country.
They provide residential moving, commercial moving, storage services, packing/unpacking, and junk removal services.
Miracle Movers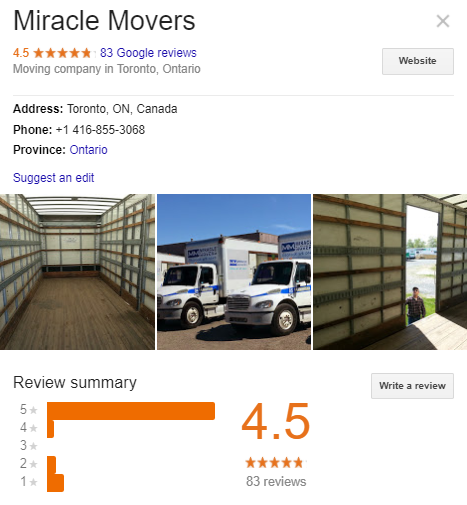 Miracle Movers – reviews
This Toronto-based moving company has more than 2 decades of experience in the relocation industry.  It has an extensive network of moving and storage professionals across the country and has moved families and businesses in Toronto, Vancouver, Calgary, Montreal, and across international borders.
Their hassle-free, professional moving service can help with your packing and ship your household goods to your new home.
The company is affiliated with the Better Business Bureau and the Canadian Moving and Storage Network Foundation.
Orbit International Moving Logistics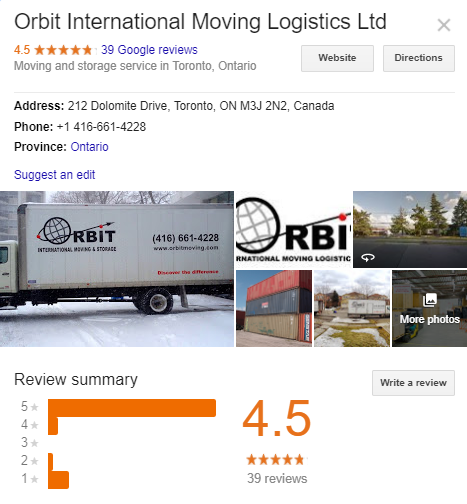 Orbit International Moving Logistics – reviews
This moving company is one of North America's leading international movers with a wide network of agents dedicated to total customer satisfaction.
It is a member of the International Association of Movers and the International Movers Network, assuring the public that they adhere to the highest standards of the industry.
The company has a state of the art software system that accurately records moving information to avoid errors.  During on-site assessment, surveyors record all items for packing and moving for an accurate determination of the quantity of packing materials needed and to provide a fair estimate of your moving cost.
The company has a wide range of residential, commercial, local or long distance moving services for the safe and timely arrival of household goods with every relocation.
GTA Moving Services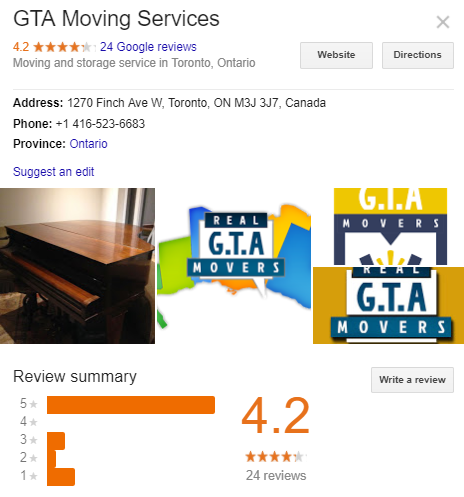 GTA Moving Services – reviews
As a premier moving company in Toronto, it has nationally-recognized affiliations across the country for efficient and cost-effective relocation.
It is a full-service moving and storage company with clean and modern moving trucks, a complete line of moving and packing supplies and equipment, and a well-trained professional crew.
Their local moving rates start for as low as $59.99 per hour.
They also provide residential and commercial long distance moving services that are charged by volume anywhere in Canada.
You Move Me – Toronto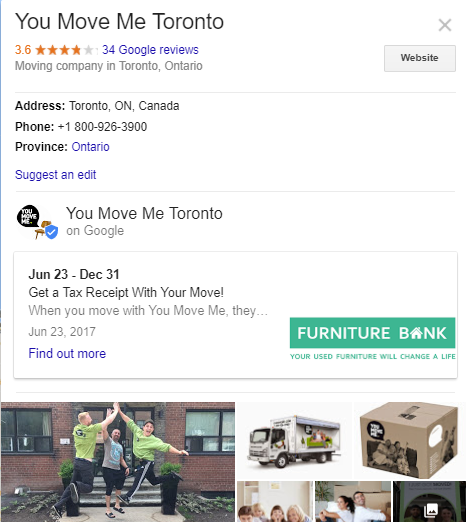 You Move Me – reviews
This Toronto moving company is part of an international franchise with offices in the USA and Canada.
The company proudly claims to be detail-oriented and to ensure that everything goes smoothly during your move. It includes details like reserving your elevator, a parking slot in front of your building, and arriving on time.
The company is also proud to have a transparent, all-inclusive pricing system that means there are no hidden or surprise charges.
They offer a complete line of moving services, including packing services, to make your move as stress-free and easy as possible.
Energy Crew Moving & Transportation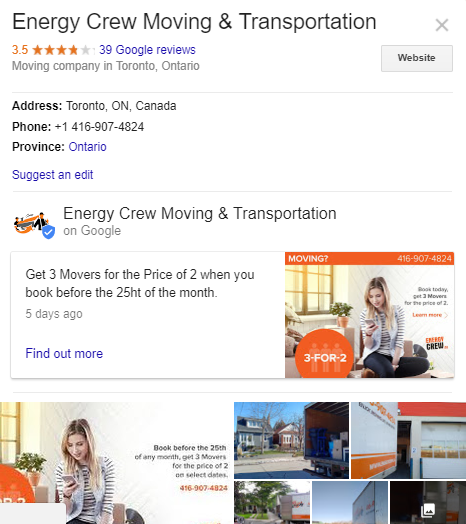 Energy Crew Moving – reviews
This moving company is a pay as you go mover. While other movers have a required minimum number of hours and have surcharge for fuel, Energy Crew Moving & Transportation includes fuel for in-town moves and offers the lowest rate of $170 per hour for a 16 ft. truck and 2 movers.
They help customers keep moving costs to a minimum. If you book a Toronto move, there's no fuel charge, no travel time charge and no minimum hours. In fact, you can book by the 25th of the month and get an extra mover at no additional cost on selected dates.
The company specializes in residential and office moving, packing, and truck loading and unloading services (if you don't need a moving truck).
Rent-A-Son Moving Services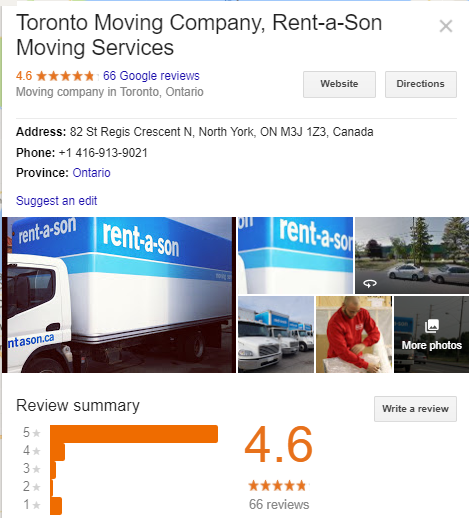 Rent-A-Son Moving Services – reviews
This Toronto Movers was voted as best moving company from 2010 to 2016.  The company is unique because they show the highest respect for your home by rolling out their blue carpet throughout your home during the move to protect your floors.
As a long distance moving company, it is an agent of North American Van Lines and can conduct any move across Canada, the US, and abroad.
The company also specializes in local household moves including condo, townhouse, or apartment with background-checked movers for your safety.
This moving company is a member of the Canadian Association of Movers.
These are 10 of the best moving companies serving the Greater Toronto Area. You can receive free moving quotes from Toronto movers by filling-out our online request form.
Find Award-winning Toronto Movers – Get 5 Free Movers' Quotes
We understand that your relocation is most important to you. Surely, you want a superstar moving company that doesn't charge superstar rates.
For this reason, we offer to provide you with 5 free movers' quotes from top moving companies near you. For your Toronto relocation, our partner moving companies will gladly give you the lowest possible rates for moving services you need.
When you request for free moving quotes, you also receive these benefits:
✓ Convenience
✓ Savings
✓ Safety
✓ Affordability
Moving to Toronto or anywhere in the GTA can be as easy as pie with the best moving company from our network.
Tell us about your move – fill-out or quick online form and you will surely hear from superstar movers in your city.