5 septembre 2016,
MOVING TO SEATTLE, WASHINGTON
The Costs of Seattle Moving Companies
Are you moving to Seattle, Washington or maybe thinking about it?  
Planning your move can put you under a lot of stress worrying about your moving costs, packing up everything in boxes, and what awaits you in Seattle.
Worrying is normal but you can keep it under control when you know you have the right moving company to help you get through it.
Professional movers can really simply the relocation process as they can take care of all aspects of your move. But if you don't want a full moving service, your movers can also just help with the loading and unloading plus the transport of your household goods.
At 5moversquotes, we aim to help you find the right moving services from the best movers in Seattle.  With over 200 professional moving companies in our network, we can introduce you to the best movers from your city.
We have prepared for you a complete relocation guide to Seattle to help you plan your move, including:
Essential things to know about Seattle
Useful resources for finding your new home, job, schools, and more
Review of Seattle's Best Moving companies with customer testimonials to help you choose your mover.
So relax and enjoy a preview of your new city, get to know your new environment and receive your 5 free moving quotes to get you started on planning your move.
THE BEST OF SEATTLE, WASHINGTON
Weather, Landscape, Jobs, Homes, and Everything Else
For sure, you have heard people say "but it rains all the time in Seattle…"
The truth is it isn't rainstorms all year round. Kidding aside, the city actually has less rainfall than some other US cities like Boston or New York City.  But people who live here know what the weather forecast is going to be on most days – RAIN. And it could be months before you see any sunshine as it is mostly gray skies. Fall and winter are admittedly gloomy but summers are sunny and calm, too.  New arrivals might need time to get accustomed to the drizzles and light showers. However, there are many good things that make this city a great place to live and work.
Seattle is highly regarded as a center for culture and performing arts. From ballet, opera, symphony, museums, and an impressive public library, it has something for the artist in everyone.
It ranks as America's #1 Smarter City in terms of government policies and a green economy.  It is also a mixture of old industrial companies and new technologies.
And the landscape – it simply oozes with emerald green spaces that make it a must for anyone who lives here to love the outdoors.  No wonder it is also nicknamed the Emerald City.
In fact, people fondly call the city a dog's theme park with 14 off leash areas for dogs to romp around in and 40 acres of open fields and trees where pets have absolute freedom.
Maybe it is the weather, but the city does love its coffee and you will experience every kind of artisan, hand-crafted coffee you could dream of.  They have the most number of Starbucks stores per capita than any other city in America, making it the caffeine fix capital.
SEATTLE'S ECONOMY AND COST OF LIVING
The city of Seattle is one of the most expensive cities in the United States.  A Seattle home's average cost is $249,000 and while housing costs have dropped in other parts of the country, Seattle's housing market has not seen a price drop.  Less than 50% of residents own their homes while everyone else rents a home or apartment.
Things do cost a bit more in Seattle than in Eastern Washington. Living costs and other expenses such as eating out, entertainment, and clothing, are also higher.  But it is a great advantage to live in this most walkable city in America where you won't need a car to get around.
One of the most popular places to see in the city is Pike Place Market where locals go to sell and buy fresh produce, fish, and lots of other merchandise. It is built on the edge of a hill and has several levels, each one featuring an assortment of shops including collectible shops, antique shops, and small family-run restaurants.
HOUSING IN SEATTLE – BEST PLACES TO LIVE
The amount you spend on housing will depend mainly on where you choose to settle and the type of housing you choose.  A studio apartment in Capitol Hill could cost you around $700 a month or higher while a one-bedroom apartment could cost a little over $2000 monthly.  A single family home or condo is in the $200,000-$1,000,000 range.  The Seattle Department of Construction and Inspections provides answers to most frequently asked rental or housing questions.
Some of the best neighborhoods in Seattle are:
Burien is a place to fall in love with.  The beautiful Puget sound waterfront and charming downtown will take you right into another era.
To really feel like you are in Seattle, you can settle right in the backyard of the Space Needle at Lower Queen Anne where you can find a huge array of bars, fast food shops, restairants and condo and apartment communities.
The small neighborhood of Georgetown is tight-knit and famous for top-tier wine stores, the oldest grocery store in the city, and the largest brewery, Seattle Brewing and Malting Company.
Capitol Hill is a short walk to the best movie theaters, coffee shops, and bars.  It is popular for beautiful vistas at Lake View Cemetery (there's a Bruce Lee grave) and a wide array of interesting food shops and grunge bars.
For the budget conscious, check out Arbor Heights in West Seattle. It has many modest homes and with huge backyards and schools your kids can walk to.
Wallingford has sturdy homes with big evergreens that provide a guard against perpetually gray skies. It is famous for carefully tended gardens lining the streets and the business district a short walk away.  It is a quiet neighborhood but has easy access to great restaurants, shops, and the farmers' market.
Ravenna Park is a mixture of suburban living with urban treats such as sushi and coffee shops.
You can find unique Seattle homes and Seattle Neighborhood information easily and pick where to live in this majestic city.
Don't worry about getting around Seattle because for a city of its size, and despite the perennial traffic jams, its mass transit system is quite amazing.  Underground tunnels for buses downtown and streetcar lines ease the traffic. You can go anywhere in the city even if you don't own a car.
FIND YOUR DREAM JOB IN SEATTLE
But if you are moving to Seattle to work, you deserve a hearty handshake.  There are many places to look for job opportunities in Emerald City as many major corporations are here.
Among the city's top employers are:
) Microsoft
) Boeing
) Amazon
) University of Washington
) Group Health Cooperative
) Bank of America
) Fred Meyer
) Nordstrom
) Qwest Communications
) Weyerhaueser
Microsoft alone provides jobs for more than 40,000 people in Seattle and it also has offices in Redmond and Bellevue.  Nintendo also offers jobs in its Redmond and Fall City locations.
And who wouldn't be familiar with Seattle's hospitals after millions of viewers all over the world have followed the romantic escapades of Grey's Anatomy doctors?  Seattle is home to Seattle Children's Hospital, Swedish Medical Center, and Northwest Hospital, to name a few.
The city is also an oasis for Starbucks, Red Hook Brewery, Hale's Ales, and many other beverage companies.
You can check out government jobs in Seattle and management, health, and customer service jobs to help you on your job hunting.
GETTING A SEATTLE EDUCATION
Finest Schools and Universities in Seattle
Choosing the right school for your children is easy in Seattle. Public school districts have 90 elementary, secondary, and high schools serving Seattle.
Following are the city's highest-ranking elementary schools:
Wedgewood Elementary School
Laurelhurst Elementary School
View Ridge Elementary School
Whittier Elementary School
McGilvra Elementary School
Bryant Elementary School
Hay Elementary School
Seattle's best high schools are as follows:
Aviation High School
The Center School
Roosevelt High School
Ballard High School
For university studies, Seattle Pacific University ranks as one of the best universities in the state of Washington. It is a private, Christian university and has almost 5,000 students.  Seattle University is also a private, Jesuit institution with close to 8,000 students. The University of Washington (Seattle) is a public research university with an estimated enrollment of 45,000 and is the flagship campus of the State of Washington university system.
With its beautiful environment, laid-back local culture, and high quality of life, Seattle definitely offers the best education opportunities in America.
MOVE TO SEATTLE WITH THE BEST MOVING COMPANIES
It is estimated that a person moves at least 2-3 times throughout his life.  Every move is different – it could be to study, to take on a new job, to raise a family, or to retire.
Whatever your reason for moving to Seattle, you can manage your moving cost and make the moving experience enjoyable when you work with a professional moving company.
We believe that one of the best ways to find the most affordable mover and avoid making bad moving decisions is to compare movers and check on customer feedback.
Below are some of the best Seattle movers with customer reviews to guide you in your choice of moving company.
HANSEN BROS. MOVING AND STORAGE
This moving company was established in 1980 and has made a name for itself as one of the city's best moving companies.
It has 3 locations – Seattle, Lynwood, and Newcastle- and offers competitive rates for packing, storage, and moving services.
It is an agent of Allied Van Lines and a member of the Better Business Bureau and the Washington Movers Conference.
The company has expertise in residential moving, commercial moving, corporate relocation, and shipping and transport.
SEATTLE MOVERS
This moving company was founded in 2002.  It started with one truck and today, it has grown to a fleet of 8 trucks and a large moving crew.
The company is dedicated to providing exceptional service for every move at the best rates.
This company believes it is not about moving furniture but moving people.  It guarantees to provide customers with motivated, courteous, and attentive moving personnel and to deliver household goods safely.
It has the expertise for providing residential and commercial moving services, and packing and storage.  It also offers long distance moving services in the Pacific Northwest.
For customers' convenience, they offer the latest tracking technology for up to the minute information about the status of the cargo.
I HEART MOVERS
This moving company guarantees the lowest quotes for high level of service for all moving needs.  They offer commercial and residential moving services, local or long distance.
The company will provide moving truck and movers, and moving equipment such as furniture pads, dolly, and straps for the safe transport of your belongings.  It is also possible to hire only moving labor for loading and unloading of a rental truck.
This is a licensed and fully insured moving company that prioritizes customer satisfaction.
On the Go Moving and Storage
This moving company was established in 2006 and has been providing the Seattle and Western Washington communities with reliable and efficient moving services.  As a licensed and insured mover, it aims to make moving as stress-free as possible for its customers.
It began operations in Bellevue Washington but over the years has expanded to serving the Seattle, Bellevue, Kirkland, Redmond areas, and beyond.
It is included in Angie's list of best Seattle movers and has earned a reputation for being a trustworthy and professional moving company.
The company offers affordable moving rates that start at $115 per hour for 2 movers and one truck.
It also offers labor only moving service for help with loading and unloading. For labor only, their charges start at $95 per hour for 2 movers and additional of $45 per hour for every additional mover.
In addition, the company also provides packing services for the same rate as their hourly moving rate plus the cost of packing materials used.
ADAM'S MOVING AND DELIVERY SERVICE
This moving company provides household moving assistance with moving trucks and moving equipment to safely transport your belongings.  They can also provide moving labor for loading and unloading if you prefer to get your own rental truck.
The company puts a premium on quality work and customer satisfaction. For the last 10 years, it has satisfied thousands of customers in the Seattle area.
It is a fully insured and licensed moving company and has 20 ft, 24 ft, and 26 ft moving trucks.  Due to its great reputation, it is widely referred by real estate agents in the city and satisfied customers.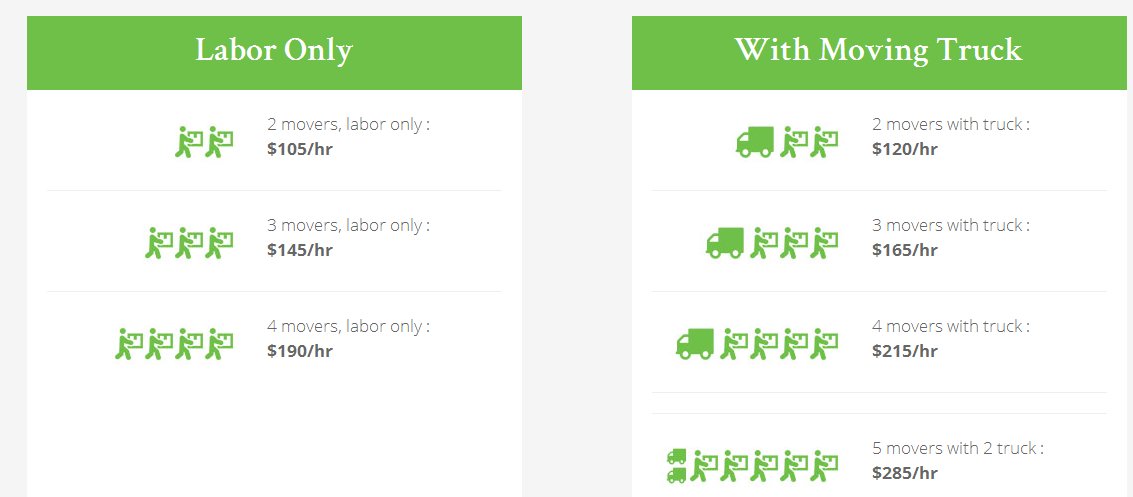 It offers affordable rates that start at $120 an hour for a truck and 2 movers. For moving labor only, their rates start at $105 an hour for 2 movers.
Check out their fabulous customer reviews below to see if you want to work with this Seattle moving company.
JORDAN RIVER MOVING AND STORAGE
This Seattle moving company is experienced in local and long distance moving for homes and businesses.
They perform local moves, cross country moves, and international moves.  They provide packing, moving, and storage services.
It is a licensed and fully insured moving company located in Kirkland, Washington and aims to make all moves stress-free and convenient with 24-hour customer service.  They also offer long distance pick-ups from any Washington or Oregon city and can help you relocate anywhere in the country.
The company also offers a weekly special for people moving to Washington or Oregon from Virginia, Maryland or Pennsylvania with a 10% price reduction off the lowest in home estimate from a reputable moving company.  If moving to Washington or Oregon from Los Angeles, San Francisco, Las Vegas, Dallas, Houston, or Salt Lake City, the company can beat by 5% off the lowest in-home estimate from a reputable mover.
GENTLE GIANT MOVING COMPANY
This moving company aims to make moving easy for you and your family.
It has more than 200 moving specialists and trained movers to help with household or commercial moving. With over 30 years of experience in the business, they have put customer satisfaction first.
This moving company serves the Seattle area and has 15 other offices nationwide including Boston, New Hampshire, New York, Provident, Philadephia, D.C., and San Francisco.
Established as a local moving company in Somerville, Massachusetts more than 40 years ago, it has earned a reputation for being a trustworthy and professional moving company.
The company does craning and specialty moving, packing, storage, packing and unpacking, and all types of moving services.
Express Movers
This family owned moving and storage company is located in Bellevue and started in 2003.  It moved to a Seattle warehouse in 2004.  As a licensed and insured moving company, it provides excellent and affordable moving services and was chosen as best movers in Seattle by different consumer bodies.
It received the Best of Western Washington by King 5 Evening Magazine, and Best Movers in Seattle by City Search and Bizvotes.  It was also given the 2009 Super Service Award by Angie's list.
The company offers affordable hourly rates that include materials.  They don't charge fuel surcharge, wrapping charges, or other material fees.
It is accredited with the Better Business Bureau and has a rating of A+. It is also a member of the American Moving and Storage Association.
CONTINENTAL VAN LINES
This moving company has been serving Seattle since 1952 and offers residential and commercial moving services.  It has nationwide moving services and is an agent of Mayflower Transit.
It is equipped to deliver seamless local or long distance moves, big or small, as well as international moves.
Although its roots are in Alaska, this family owned and operated Seattle moving company has delivered thousands of satisfactory household and commercial moves and guarantees to make your own move stress-free and affordable.
MAJESTIC MOVING AND PACKING
This moving company has been in business since 1993 and provides high quality packing and moving services in Seattle.
It specializes in local and long distance moving and also offers last minute moving services.
This full service moving company is licensed and insured and proudly calls itself a woman owned business. It offers free use of wardrobe boxes for its moving customers.
It is a BBB accredited company with an A+ rating and will make sure to understand your moving needs to deliver a satisfactory and efficient move.
HAPPY MOVERS
This moving company specializes in local and long distance moving services for residential or commercial moves.  The company guarantees a hassle-free move and offers full service packing to make it easy for you.
This moving company was listed as one of best movers in Seattle by Thumbtack.
ECO-MOVERS MOVING
This moving company aims to provide high quality moving services that are eco-friendly to their customers.  They believe in recycling and minimizing the impact of the industry to the local environment.
They offer residential moving, commercial moving, and storage, packing and unpacking, and truck loading and unloading.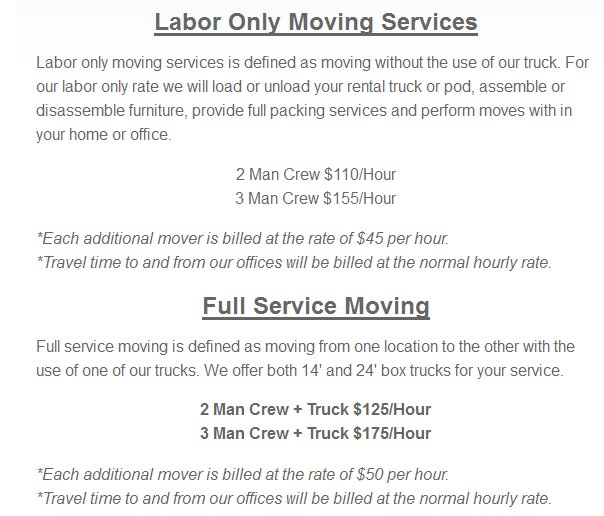 For full-service moving, the company's moving prices start at $125 per hour for 2-man crew and truck or $175 per hour for 3 man crew and truck.  For moving labor only, their moving rates start at $110 per hour for 2 movers.
RELIABLE MOVING
This moving company was founded by a group of moving professionals with the goal of delivering high quality residential and commercial moving services in the Puget Sound area.  As a full service moving company, it offers household moving, office moving, statewide moving, packing and unpacking, and storage services.
They consider themselves as one of Seattle's best moving companies with the trained and experiences staff to handle any type of move.
SEATTLE SELECT MOVERS
This moving company in Seattle is licensed, bonded, and insured for residential and commercial moving services.  As a BBB accredited company, it strives to maintain high ethical standards and professionalism in the delivery of moving services.
It is also one of the moving companies approved by the Washington State Transportation Commission.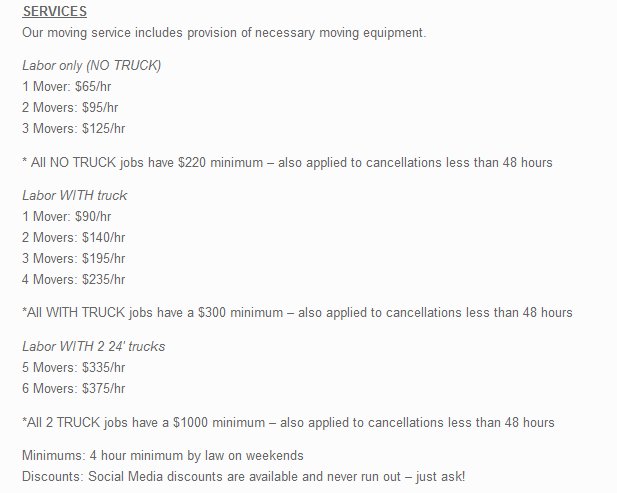 Its moving rates start at $90 per hour for moving truck with 1 mover and $140 per hour for moving truck with 2 movers.  For moving labor only, their rates start at $65 per hour for 1 mover and $95 per hour for 2 movers.
As you can see, their moving rates are low and they could even provide discounts.
SAVE BIG SEATTLE MOVERS
This moving company specializes in local moving, long distance moving, and specialty moving in Seattle.
A moving coordinator is assigned to assess your moving needs and ensure that you have a stress-free moving experience.
As a full service moving company with full time movers, they are equipped to provide quality moving, vehicle shipping, packing and unpacking, and storage services.
The company guarantees that they don't charge hidden charges and that they offer fair prices for moving services.  They provide an itemized moving quote to allow you to plan your moving budget.
These are just some of the best moving companies serving the metro areas of Seattle.
To compare actual moving companies and prices, request for your own 5 free moving quotes and get started on planning your move.
SIMPLIFY YOUR MOVE WITH OUR SEATTLE MOVERS
Even if you are moving on a tight budget, it is possible to reduce the stress and difficulties of moving with customized moving services.
Moving companies serving Seattle offer a wide variety of moving services to suit your needs and budget.  From complete moving services, to moving labor only, or partial packing services, you can obtain help with your move at very affordable rates.
DIY Moving can he highly over-rated as you could end up paying almost the same amount of money as when you hire a good professional moving company.
Go ahead, request your free moving quotes today and start comparing your moving options. Don't wait till the last minute to book your Seattle moving company.
We can send you the lowest moving bids from reputable and experienced movers in your city.
We look forward to helping you plan your move and hope you have the best move ever.