8 septembre 2016,
BEST GUIDE FOR MOVING TO AUSTIN,TEXAS
Money-Saving Tips with Austin Moving Companies
If you are looking for the best ways to move to Austin, Texas, you have come to the right place.
At 5moversquotes, we aim to help you get all the information you could ever need to plan a stress free and affordable move to this wonderful city.
Austin was named # 1 in Forbes Magazine's List of Best Cities for Job Growth among 100 metropolitan areas. It is estimated that as many as 150 people move to this city daily from all parts of the US or abroad.
Located in the heart of Texas, it is a city of awesome people and bustling with artistic and cultural activities.
If you are soon to become an Austinite, we have the following lined up for you:
Complete guide to neighborhoods, schools, and jobs in the city
Exciting things to see and do in Austin
Review of the best moving companies in Austin and their moving services
If you want to know how you can save on your move to Austin, stay glued and take advantage of the resources and tools in this guide.
At the end of your review, we can help you connect with the most affordable moving companies to help you relocate to Austin. Our 5 free moving quotes are quick and easy and absolutely free!
MOVING TO THE FRIENDLIEST CITY IN AMERICA
There are many reasons why Austin attracts thousands of new arrivals every year.  Now that you've decided to make it your city, too, it is important not only to know everything about your new home but also to plan your move well.
Did you know that Austin ranked # 5 in Conde Nast Traveler's friendliest cities in the country?
That means you are relocating to a city that welcomes newcomers with open arms and that you can look forward to a pleasant experience all around.
It is also the country's fastest growing city and is a hot moving destination for many Americans and migrant workers.  From being a big college town, Austin has become one of the largest cities in America with a booming economy that is expected to rise steadily.  Bloomberg even ranked it # 1 Top American Boomtown in 2013.
Why is Austin such a desirable place to move to?
Unemployment remains low with a proliferation of well known consumer brands headquartered in the city including Dell, Chuy's, Whole Foods Market, Yeti Coolers, and National Instruments.  It is also a popular choice for tech and other start-ups.
In the Milken Institute's annual assessment of job sustainability, Austin ranked # 1 as Best Performing City.
As you can see, this city is multi-awarded for its growing economy, growing job market, and desirability as a place to live and work.
If you are wondering what quality of life here is like, you will be happy to know that residents enjoy a sound environment with plenty of outdoors for rest and play. Ranked as one of the US' Bike-friendly Cities, it also offers lots of perks for those who love the outdoors.
Swimming in Barton Springs Pool and jogging in Town Lake are just a few of the really amazing ways people here enjoy great weather and nature.  It is the greenest city in the state of Texas and definitely one of the cleanest cities you can find in America.
Clean and Green. Job-rich. Beautiful outdoors and friendly people. These are but some of the great things waiting for you when you move to Austin.
Whether you decided to relocate to Austin for its music, the food, or its economic opportunities, this city of Texas consistently ranks high among the best cities for families to relocate in America.
Let's start planning your relocation with a listing of the best moving companies serving the area so you can get packing soon.
THE BEST AND BIGGEST MOVING COMPANIES FOR RELOCATING TO AUSTIN
How would you like to move to Austin? Are you moving on a tight budget or maybe want to have a semi-DIY move to save money? Or do you need movers to take the work off your hands with a full moving service?
No matter what kind of move you want or what kind of budget you have, we can help you connect with the right moving company for the job.
Looking for a great moving company is not that easy. With so many movers to choose from, how do you know you have made the right decision?
Choosing a mover can be easy when you have multiple quotes for comparison and reviews from other customers who have gone through the same experience.
It is also a big relief to know that we only introduce you to licensed, insured, and reputable moving companies.
Below you will find some of the best and biggest movers serving Austin, Texas with customer reviews to give you a clearer idea of how moving companies can help you.
EINSTEIN MOVING COMPANY
This Texas movers aims to make your move as affordable as possible.
They use a pricing system that means you only pay for the time their movers work.  They don't disguise fees or hide charges because they only have a low  and flat hourly rate which begins from the time they pick up your first item.
Their trucks are 24 and 26 foot box trucks and outfitted with moving pads, dollies, and all other moving equipment needed to ensure a safe and efficient transport of your goods.
This moving company helps with apartment moves, office moves, statewide moving, packing, or pods and containers.
They give customers an on-time guarantee with a window of arrival of 2 hours or less. If their moving crew makes you wait, you get a discount off your bill.
This company is a licensed and insured mover in the state of Texas.
TWO MEN AND A TRUCK
They call themselves Movers who Care, and that can't hurt as your movers will be handling your most precious possessions in life.
While this company started as an after school project of 2 high school boys, it grew to be a huge company 30 years later specializing in domestic and international moving with more than 320 locations across the globe.  The company operates in 39 states in the US and still counting, with more offices to open in Canada, Ireland, and the UK.
The company also offers Value Flex service for the budget conscious.  Your cargo is loaded into a portable container and delivered by long haul carrier to your new destination.  It may take you longer to receive your belongings but you can get a lot of savings.  This long distance moving option is available only in selected states.
Their regular expedited long distance service is available if you are in a hurry and means the same moving crew loads your belongings and transports and unloads your cargo to a new location.
This company is one of the fastest growing franchised moving companies in the USA offering packing services, household, and business relocation, small or large.
AUSTIN MOVING FORWARD
This is a full service moving and storage company offering residential, commercial, and long distance moving services.
The company offers unbeatable moving rates and fast and friendly service.  Their moving crew guarantees careful handling of your goods to prevent wear and tear during any local or long distance move.
The company also specializes in office moves, elderly moving, packing, storage, and anything you need for local and statewide moves.
This company is fully licensed, bonded and insured and equipped to handle any type of move.
The company also assures customers that after a careful assessment of your home, you will receive a binding, not to exceed quote, so that you know exactly how much your move is going to cost.
Is this your Austin movers? You can check out their services from the video below.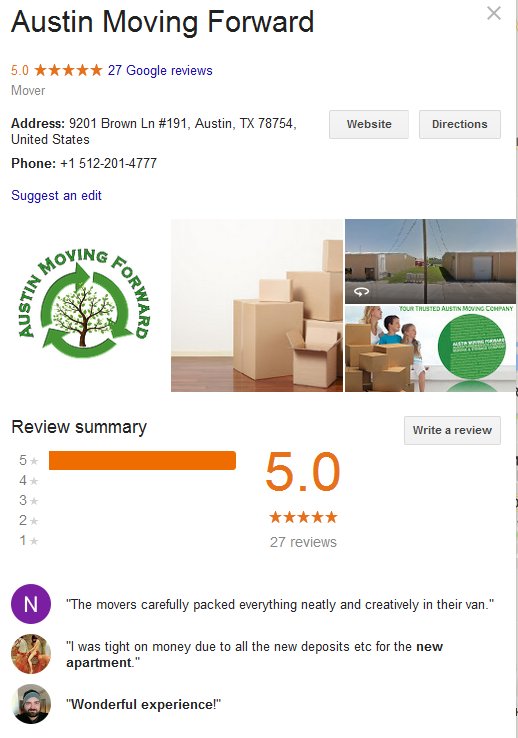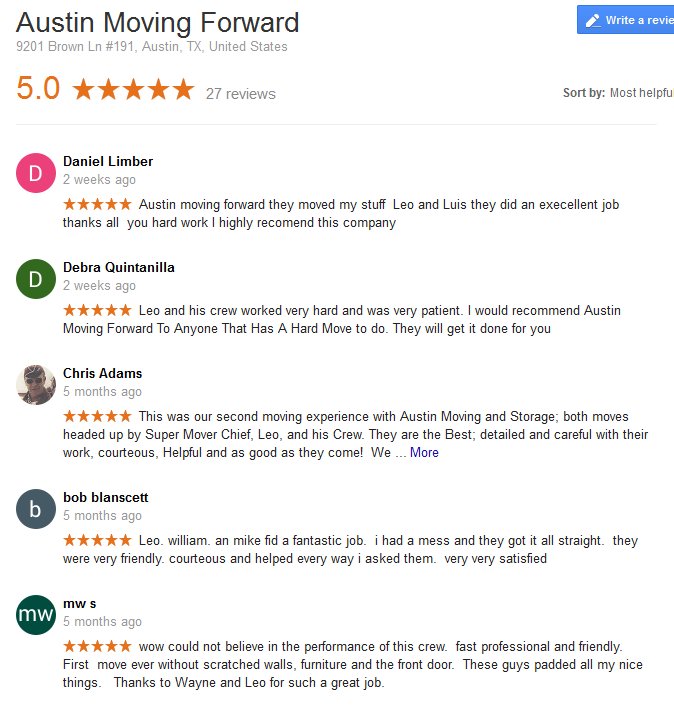 MOVING SQUAD MOVING COMPANY
This moving company provides household moving services at affordable prices.  The company believes that customers should have access to professional moving services at low prices.
Unlike other moving companies, they don't charge for disassembly or assembly, connection assistance, or for long walks or stairs.
For residential services they offer apartment moving, condo moving, senior moving, moves to student living facilities, and one way moves.
They also offer commercial moving, intrastate moves, and single item moving.
APPLE MOVING LLC
This Austin moving company began more than 25 years ago.  It serves the metro Austin area for world class local and long distance moves.
They offer full service moving, hourly moving labor, piano or pool table moving, packing, and household or commercial moving intrastate or out of state moving.
They also have a climate controlled storage facility.  The company is an agent of Stevens Van Lines.
The company guarantees transparent pricing for moving to West lake Hills, Sunset Valley, Manchaca, Buda, Round Rock, and anywhere else in Austin and nearby areas.
This moving company is a member of Southwest Movers Association, and the American Moving and Storage Association.
JACKSON'S MOVING AND DELIVERY
For this moving company, customer satisfaction is their number 1 priority.
It is a locally owned, family operated moving business specializing in household moving and office moving, and even last minute moves.
If you don't require a full moving service, they will be happy to assist with labor only or small delivery.
This moving company offers $105 per hour for apartment moves with 2 hour minimum plus a trip fee of $35 for 2 movers. It also gives the same rate of $105/hour for 2 movers for household moves. This is s friendly price for the budget conscious.
SQUARE COW MOVERS
This moving company was founded in 2007 started with just two trucks. Today, it is one of the fastest growing businesses in Austin and received the 2014 Torch Award from the Better Business Bureau.
Although it is a Texas company, it also conducts out of state moves.  It specializes in household and commercial moving, packing, and piano and pool table moving.
The company is proud to say it doesn't have any hidden fees and offers a moving quote based on complete information from the customer.
It has locations in Austin, Katy, Houston, the Woodlands, Dallas-McKinney, Dallas Fort Worth, and Denver.
HALF-PRICE MOVERS
This moving company offers various affordable moving services including moving truck rentals.  When doing a household move, they can also assist with 2 or 3 movers to suit your budget.
For a full move, the company offers the following rates:
If you need extra help with a full service move for packing, loading and unloading, this company's moving rates may be just what you need. Their moving price for 1 bedroom and 2 bedroom moves (from $248 to $549) are quite affordable and would definitely make your move a whole lot easier for you.
They also specialize in senior moving, storage, and shipping.
UNICORN MOVING
This moving company proudly claims that 70% of its customers come from repeat customers and referrals.
All moves are kept confidential for the protection of its customers.  The company is accredited with the Better Business Bureau, Southwest Movers Association, and the American Moving and Storage Association.
It was voted Best of Austin 2015 in the Austin Chronicle.
The company offers competitive rates for packing, moving,  long distance transportation services, and storage.
They provide moving services to the whole of Texas with daily services for Dallas, San Antonio, Corpus Christi. Houston, and Fort Worth.
ROCKET MOVERS LLC
This moving company was established in 1997 serving the Austin area for high quality residential and commercial moving services.
It is a locally owned and operated company and is accredited with the Better Business Bureau.
As a fully licensed and insured mover, it handles relocation from end to end in the state of Texas.
It also has a secure and climate controlled warehouse for short or long term storage needs.
The company has modern moving trucks and guarantees on time moving services.
LITTLE GUYS MOVERS
This moving company started in 1992. The company believes in doing right by people and aims to always deliver satisfactory moving services.
Aside from local moving, the company also handles long distance moving, commercial moving, senior moving, and piano moving.
With locations in the state of Texas, and offices in North Carolina, Colorado, Oklahoma, and Tennessee, this professional moving company can help you relocate to Texas efficiently and at a reasonable price.
HEAVENLY CARE MOVING SERVICES
This moving company was founded in 2004 from a desire of the owner to assist seniors in relocating from their homes to senior care facilities in Austin.  It then evolved into a moving company performing residential and commercial moves locally and long distance.
As a local business and a family owned business, they take pride in providing reliable and efficient moving services for everyone.
They have been given the Super Service Award in 2015 by Angie's List and has received many favorable and positive reviews from customers.
ARMY ANT MOVING
This full service Austin movers is a family owned and operated local moving company with more than 15 years of experience in relocating families in the Austin area.
It offers packing services, apartment or condo moving, residential and commercial relocation, and moving boxes and supplies.  They also assist with loading and unloading of rental trucks.  They also specialize in moving upright and grand pianos, pool tables, and other heavy machines or safes.
Their team takes great care by using the right moving supplies and equipment including stretch wrap for furniture, quilt covers, floor runners and door blankets and jam clips.
Berger Allied Van Lines
This moving company started in Minneapolis, Minnesota way back in 1910.  Today, it is still a family owned and operated business and is a partner agent of Allied Van Lines.
It offers residential moving, commercial relocation, international moving, and warehousing.
It is accredited with the Better Business Bureau and a member of the American Moving and Storage Association and the International Association of Movers.
The company aims to make relocation pleasant and stress-free for its customers.
LONGORIA MOVING
This moving company is passionate about helping people move and strives to provide excellent customer service.  It is locally owned and operated and ensures moving trucks are clean, fully equipped, and their movers are well trained and efficient.
When relocating anywhere in Central Texas, the company offers dependable and high quality moving services including:
packing services
residential moving
piano moving
moving labor
These are just 15 of the best movers serving the metro areas of Austin, Texas.  To compare moving companies and prices, you can request for your own 5 free moving quotes today to connect with the right moving company for your household move.
We can help you save on moving costs with our partner moving companies through affordable and reliable relocation services anywhere in Austin.
If you want to compare Texas cities, find more options and tips with Dallas Moving Guide.
RELOCATION TOOLS AND TIPS FOR MOVING TO AUSTIN
Jobs, Neighborhoods, Schools, and Fun Activities
Austin is known for being the "Live Music Capital of the World" as well as for the millions of Mexican free-tailed bats swooping from below the Congress Avenue bridge.  It also boasts of award winning restaurants, out of this world barbecue, and for being a center of high technology industries.
About 3 hours south of Dallas and west of Houston, its geographic location puts it right in the heart of Texas. Its limestone cliff formations make it unique. With steep terrain and rolling hills, creeks, and parks, visitors find it hard to believe they are still in Texas with the stunning vista and temperate climate that surround them.
Surely, you are excited to know where the best neighborhoods are to settle down in this amazing city and how to find the right job or school. Below you will find many useful resources for finding your way and blending in this exciting and fun-filled city.
Living in Austin, Texas – The Best Neighborhoods
When you are planning to relocate to a new city, it makes perfect sense to study what neighborhoods are safe to move to.  But here in Austin, you have nothing to worry about because the crime rate is very low compared to other US cities of the same size.
Generally, the wealthiest neighborhoods are located in West Austin, Central Austin and parts of East Austin.
There are suburbs with very affordable housing in North, East, and Southeast Austin.  South Central Austin is popular for renting apartments in Austin.
Most activities happen in the city where you will find its upscale restaurants and high-rises. It is common for people to simply walk downtown than take a car.
Of course, the closer to downtown you choose to live, the higher the rental or market price.  Some of the wealthiest districts are downtown such as gorgeous homes in Pemberton Heights, Clarksville, Bryker Woods, or Rosedale.
North of the University of Texas is Hyde Park, one of the city's oldest districts where there are many beautiful Victorian homes with old-style cottages.  The neighborhood has great appeal with its tree-lined streets, perfect for bikers.  There are many rental homes in the neighborhood which are ideal for families. While an expensive neighborhood, it does have a diverse population due to its proximity to the university.
The housing market in Austin is hot and families in the low income bracket may find it quite difficult to find affordable homes.  The good news is that several housing developments are underway and expected to open in the next two years. These include Cardinal Point, Windy Rich, and Aldrich 51.
As Austin is also quite popular as a retirement destination for seniors, the city also boasts of many senior housing facilities for independent or assisted living.
The Austin-Round Rock area continues to grow rapidly and made it to the list as #9 among fastest growing cities.  With thousands moving to Austin annually, and its population nearing the 800,000 mark, it is the 4th largest Texas City.
Study in Austin – Best Schools in the City
Whether you are a parent worried about finding a good school for your kids or a student yourself, you are assured that the City of Austin has the best schools and universities in Texas.
There are many good choices for studying in Austin as it is one of the fastest growing areas for charter schools.  These schools are also public schools but with more freedom regarding curriculum and philosophy that makes them more attractive to parents.  For instance, there are charter schools in Austin for specific areas like technology or gymnastics, and many others for self-directed or experiential education.
More than 390 charter schools in Texas educate an estimated120,000 students.  You can compare schools in Austin and neighborhoods for finding good communities to settle in.
Austin also has private and international schools such as Abecorn International School and Austin International School.
For higher education, there are 5 universities near Austin, the largest being a public university.
The University of Austin in Texas was also named one of 2016 Top Public Universities with a rating of A+ for academics, campus quality, athletics, and quality of student life.  It has around 51,000 students pursuing various areas of study including graduate studies.
BEST JOBS IN AUSTIN
Austin is #1 in Job Creation in America
Austin has a strong reputation for creating jobs and has an overall score of 83.9 out of 100 in the list of 102 cities based on a report by the Business Journal on Numbers.
The capital of Texas has an unemployment rate of 5.2 percent and boasts of a weekly average earning of close to $1000 per worker.
It is the only city in America with a double-digit percentage job growth in a 5 year period.  No other city in the US has seen a job growth rate higher than 8 percent and for this reason, Austin remains no. 1.
As a center of high technology, it is a leader for wireless technologies and was named the hottest wireless city by Newsweek magazine in 2004.  It offers more wireless spots per capita than any other US city.  Wireless companies based in Austin include Dell, Intel Corp., T-Mobile, and AT $ T Wireless Corp.
There are many other companies that have made the city their home including Hoovers, National Instruments, Schlotzky's, Whole Foods, and more.  Items and goods produced in the city include semi-conductors, pharmaceuticals, video games, biotechnology, electronic instruments, software, and computer peripherals.
The Texas Workforce Commission also offers workforce training to employers and job hunters with 28 workforce boards.
With so many job opportunities in various industry sectors and a high quality of life overall, it is not surprising that the city remains as a top relocation choice.
Great Austin jobs might be waiting for you and help you make a new life in this vibrant and exciting city.
FUN IN AUSTIN – THINGS TO DO IN THE CITY
With more than 300 days of sunshine a year, Austinites really live for the outdoors.  Blessed with wilderness preserves, nature trails, and parks, it is an oasis within a city.
According to Runner's World Magazine, it is one of the "Best running cities in the USA" and it was also named as the Top 10 American Cities by National Geographic Traveler.
So, what can one do for fun in Austin?
You could enjoy a whole day out on Lake Travis or any one of the 6 Highland Lakes for water sports and lakeside picnics. You could enjoy a swim or do absolutely nothing but relax at Zilker Park.
Visit Mt. Bonnel, Lady Bird Johnson National Wildflower Research Center, or the largest college campus in the country – University of Texas.
You could also enjoy amazing shopping treats downtown or bask in the delightful city landscape or dine in one of Austin's famous restaurants.
Whatever you enjoy, you are sure to find it here in Austin where residents love to say "Come as you are."
HOW TO HAVE A STRESS-FREE MOVE TO AUSTIN
Anyone who has ever moved will tell you that moving is stressful and difficult.  But instead of dwelling on the difficult aspects, you could be enjoying the move by focusing on what is important – finding a home, a job, and getting settled in your new city.
This is definitely possible if you hire the right Austin moving company for your relocation.
Your moving company can take care of everything for you – from packing, loading and unloading, to delivery of your goods at the most affordable price.
We can help you connect with moving companies serving Austin, no matter what city you are in right now. All you need to do to find the best movers is to request for 5 free moving quotes, free of charge.
Receive the lowest quotes imaginable without sacrificing on quality, efficiency, and safety.  As our partner moving companies are all licensed and insured, you can avoid dealing with dishonest or disreputable moving companies that could take advantage of you.
Want to get started on planning your move to Austin today?
Click for your 5 free moving quotes and compare moving companies and moving rates for the best moving to Austin packages.
We wish you to find the most pleasant and affordable move to Austin.