8 juin 2016,
Moving is something most of us will do at least once or twice; but each move will be different and will present different problems. It is stressful, not to mention expensive and exhausting.
If you are planning a relocation to Kitchener-Waterloo, we can help you with valuable moving tips. You'll find important information for newcomers in Kitchener-Waterloo and a list of 10 best moving companies serving the Tri-Cities.
If your goal is ZERO STRESS during your relocation, it is important to plan your move carefully.  This includes knowing your best moving options that suit your needs and budget.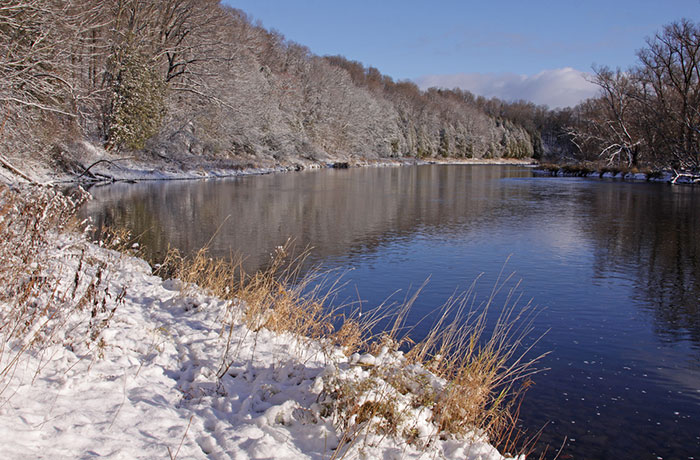 Shop for the Best Kitchener-Waterloo Movers
Don't leave shopping for the best Kitchener-Waterloo movers at the last minute.  Your choice of moving company is one of the most important decisions about your relocation.  You can get free moving quotes online to look for good moving companies for your move.
You can save a lot of money and avoid headaches if you select your moving company early in the planning process.  If you are moving during a busy season, booking your mover early will guarantee a smoother relocation at the best price.
3 Important and Unbeatable Benefits from Professional Movers
Are you wondering if you should hire a professional mover?
You get 3 important and unbeatable benefits from professional movers that you can't get from a DIY move.
Efficiency
Cost-effectiveness
Simplicity
You can save yourself from heavy lifting and long driving. You can customize moving solutions to suit your budget. Most importantly, you can make your relocation a lot simpler with professional help.
To obtain these 3 important benefits, you need to hire an experienced and reliable mover. Use free moving quotes to connect with the best movers in your area.
What's Waiting in Kitchener-Waterloo? Newcomer Moving Tips
Kitchener is part of the Tri-Cities including Cambridge and Waterloo. The Regional Municipality of Waterloo is also called the Silicon Valley of Canada. Being a hub of tech companies in the area, it has become a primary moving destination and the 10th most populated in the country.
Just an hour and a half drive away from Toronto, many residents willingly commute to Windsor or Toronto to be able to enjoy the high quality of life in Kitchener.  Around 71% of its population speaks English as their mother tongue.
Kitchener-Waterloo's Economy at a Glimpse
Kitchener's vibrant economy relies on manufacturing, with over 20% of its labor force employed by this sector.
The Waterloo Region is strategically located in the middle of Southern Ontario. It is an hour or so away from Toronto, Hamilton, London, and many other important cities.  You can get access to a wide variety of jobs with easy commute.
The twin cities are just a few hours away from Windsor and Detroit, Michigan which are both automotive centers.  Other industries include Lear Siegler and Budd Canada.
Kitchener-Waterloo Has World-Class Education
Two world-class universities – The University of Waterloo and Wilfrid Laurier University- are excellent academic institutions that attract many students to move here.  It has also created many spin-off businesses offering abundant jobs to residents.
The cost of living in the Waterloo Region is quite affordable, being significantly lower than many parts of Ontario.
Fantastic Kitchener neighborhoods to move to
You are most probably looking into where to rent or buy a house in the Kitchener-Waterloo area.  It is in the top 20% of suburbs in Canada in terms of affordability of real estate prices.
Some of the most popular neighborhoods in Kitchener-Waterloo include:
Chicopee
Country Hills
Forest Heights
Victoria Park
Huron Park and Brigadoon
Bridgeport
Downtown Kitchener
Pioneer Tower
Alpine Village
Stanley Park
These neighborhoods have something in common – they all offer multiple amenities, are family-friendly and very safe to live in.  Downtown Kitchener has older homes with elegant structures that date back to before WWII.  Huron and Brigadoon has a wonderful mix of farmland and urban options with a beautiful, natural background.
Whether you plan to rent or invest in a home, Kitchener has lofts, duplexes, older homes, and single-family homes.
You may find more information to help you get settled in your new city with:
Finding real estate in Kitchener-Waterloo Region
Applying for Utilities in Kitchener
How to Move to Kitchener with Local or Long Distance Movers
When you pack up your household and load belongings on to a truck, the moving company of your choice is in charge of your life-long belongings.  That is a very important job that you can't give to just anyone.
The most effective and reliable way to transport household goods for a residential move is with a local or long distance moving company.
There may be other ways to do it, like pile boxes on top of your car, or get a truck rental and drive yourself. But let's face it; relocating with a professional moving company is the most convenient and least stressful way to move.
You should also consider your moving insurance. Does your homeowner's insurance cover your household goods during relocation? Find out more about moving insurance quick facts to ensure your valuables and household goods are safe during your move.
How can professional movers help with a relocation to Kitchener-Waterloo?
Many people have never tried using a professional moving service. They think it is unnecessary or even too expensive.
Actually, moving services are necessary and quite affordable, depending on your choice of mover.
Moving companies have the proper moving equipment, trained movers, and expertise to make relocation cost effective and easy.  Movers can take over a move to cut the time it takes to relocate you in half compared to a DIY move.
They also have the proper insurance to protect your household goods during a move.
Let's count the ways that professional movers can help with your relocation.
1. Professional movers can do your packing and unpacking.
Most people's nightmare is the packing and unpacking, especially if the house is medium to large size.
Professional movers offer professional packing and unpacking services for your convenience.  If it is a local move, it will be an hourly charge based on the size of moving truck and number of movers.
For long distance moves, the moving company will factor in the optional service together with the distance of your move and the weight of your inventory to provide you with a flat rate.
Imagine how easy it will be if professional packers handle your packing to ensure nothing gets damaged and save you all that time and effort!
2. Professional movers assemble and disassemble furniture.
Are you not looking forward to dismantling the king-size bed by your lonesome? Don't worry because professional movers can assemble and disassemble furniture.  They will have the right Allen keys and other tools needed for the job.
3. Your movers do the loading and unloading.
Another huge challenge for anyone who is moving is to get those heavy furniture and boxes into the moving truck.  Professional movers do all the loading and unloading; you don't need to help. In fact, movers prefer to do all the heavy lifting because they know exactly how to maximize the space to ensure all your household goods fit without compromising their safety.
In fact, even if you choose to just rent a U-Haul truck, you can still get moving labor from professional movers just for help with loading and unloading.
4. Professional movers will do the long driving.
It's not easy driving a vehicle packed to the brim.  After doing all the packing, the loading, driving 4-5 hours to transport your household goods, unloading, and driving again to return a truck is nothing to laugh about. Surely, there is an easier solution than this.
When you hire a professional moving company, they do all the driving.  You can then make your own comfortable arrangements to get to your new location and simply wait for the arrival of your cargo.
5. Professional movers can store your household goods for short or long term.
Some moves can be more complicated than others. Sometimes, you need to vacate a home while waiting for your new home to be ready.  In that case, you will need temporary storage.
Full-service professional movers offer secure storage for short or long term.  Their warehouses are secured with an alarm system and are temperature-controlled.  Your moving company can help you to move out of your home and deliver your household goods to a warehouse for the time being.  When you are ready, they can deliver your cargo to your new location.
When you are moving locally or long distance to Kitchener, a professional moving company can help you in many ways.  Talk to our moving partners for the best moving solutions for your relocation.
3 Benefits of Free Movers' Quotes to Find the Best Kitchener Movers
There are 3 significant benefits to using free movers' quotes to find the best Kitchener-Waterloo moving companies.
1. Quick and Convenient
There's no faster or more convenient way to get free moving quotes than using free online moving estimates.
Moving quotes are based on your actual information so they are near to accurate. Over- the- phone estimates are provided to entice you to hire the company but may not be accurate.
In contrast, online moving quotes are carefully considered by moving companies to provide you fair and competitive prices so you can plan your moving budget.
2. Save Time and Money
Comparing multiple online moving quotes allows you to find more value for your money and choose the most affordable moving services.  You also save time by receiving multiple quotes in just one request. No need to keep repeating your information from one mover to another.
3. Access to Best Moving Companies
When you request for moving estimates from our network, you get access not only to moving companies but the best ones in your area.  Our partner movers are all licensed, fully insured, experienced, and have a proven track record for relocating families and businesses throughout North America.
These 3 significant benefits are yours if you fill-out our quick online form to find the right moving company for your move.
10 Kitchener-Waterloo Best Moving Companies and Why People Love Them
Moving companies comes in different forms and sizes. They are not all the same. Some are larger than others with more variety of services while some have smaller operations specializing in truck rental and moving labor.
Choosing a "best moving company" for your move actually depends on what your needs are. Do you need a complete moving service with packing, storage and delivery? Do you just require a moving truck with movers? You may also want a moving company with offices in both your locations, such as Toronto and Kitchener, for your peace of mind.
Below are 10 Kitchener-Waterloo moving companies that have made their mark in the moving industry and why people love their moving services.  These moving company reviews will give you more idea of what kind of movers you want and what moving services you can get for your move.
Elite Moving Company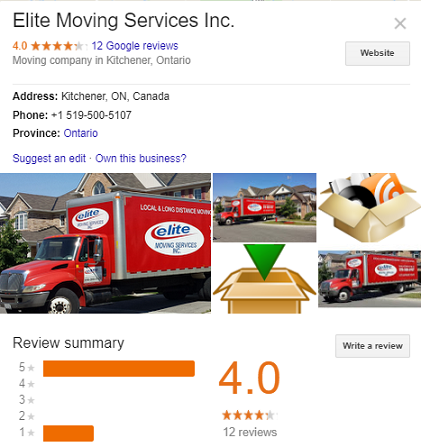 Elite Moving Company – reviews
This moving company is a leading residential mover in Kitchener, Cambridge, and Waterloo region.  It is highly-experienced in local and long distance moving. Whether you need just labor for loading and unloading or a complete moving service, the company offers very reasonably-priced moving services.
If you require help with packing, their professional packers take extra care in handling your items and use specialized cartons, bubble wrap, micro foam, plastic wrap, and reusable quilted moving pads to protect your valuables.
Attuned Moving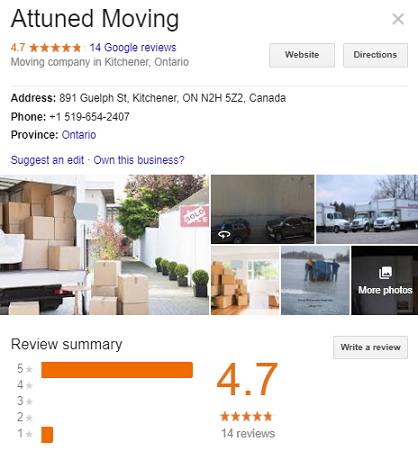 Attuned Moving – reviews
This family-owned and operated moving company has been in business since 1989.  It is licensed, fully insured and bonded, and offers residential and commercial relocation, and local and long distance moving services throughout the Waterloo Region.
They are proud of their movers that show up on time and for their transparent and honest moving prices.  They also specialize in furniture disassembly and assembly and for piano moving or hot tub moving.
Wilke Movers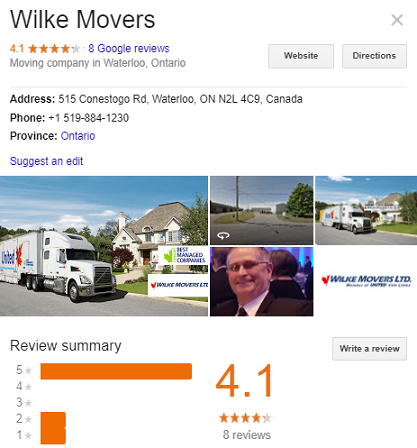 Wilke Movers – reviews
This moving company in Waterloo has been moving families and businesses for almost 100 years now.  Experts at residential and office moving, the company performs local and long distance moves across Canada.
They provide free in-home assessment to come up with fair and accurate moving quotes. Their services include senior relocation, container storage, cross border moving from Canada to the USA, moving supplies and equipment, and packing and unpacking services.
Two Men and a Truck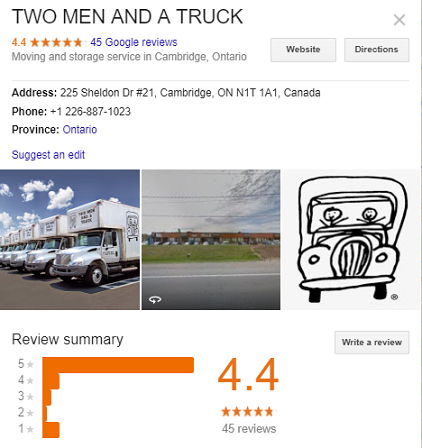 Two Men and a Truck – reviews
This Kitchener-Waterloo moving company offers household and office moving in the tri-cities of Kitchener, Waterloo, and Cambridge.  It opened its office in Cambridge in 2012 and is part of a large franchise of independent movers.
It specializes in professional packing and unpacking, residential and commercial moving, storage, and delivery services.
Moving Forward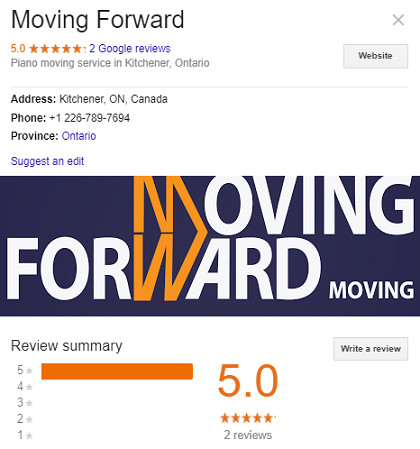 Moving Forward – reviews
This moving company offers residential and commercial moving services in the Kitchener-Cambridge-Waterloo region. Established in 2012, the company aims to stand-out from its competitors by providing reliable, high quality, and affordable moving services.
They provide the following relocation services:
Short notice moving
Specialty moving
Residential and commercial moving
Hourly and flat rates
Local and long distance moving
Their local moving rates start for as low as $70 per hour for a truck and 2 movers.
Baird Moving Inc.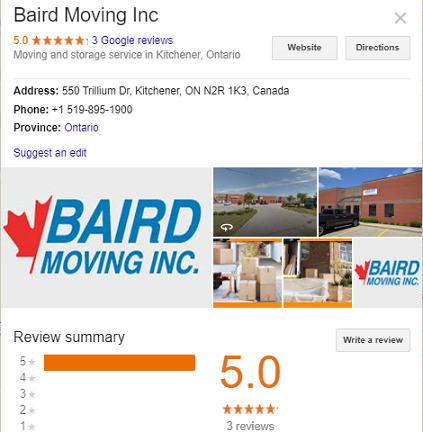 Baird Moving – reviews
The company began business operations in 1959 and originally served the Kitchener-Waterloo Region.  Through hard work, the company has expanded its moving services across Canada and the USA
The company is also one of the original founding members of United Van Lines and remains a member until today.  This affiliation strengthens its ability to conduct any type of relocation across North America.
The company offers professional packing services, long distance and local moving, commercial moving, and storage and warehousing.
AMJ Campbell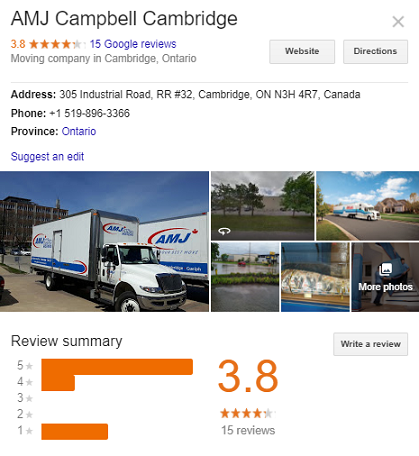 AMJ Campbell – reviews
This moving company has decades of experience in relocating families and businesses. It serves the communities of Kitchener, Waterloo, Cambridge, Guelph, and surrounding areas.
The company offers residential moving, commercial moving, specialized logistics, packing services, international moving, and storage at very reasonable rates.
They ensure that all their movers are background-checked and with proper ID cards for the safety and peace of mind of their customers.
Mike the Mover Ltd.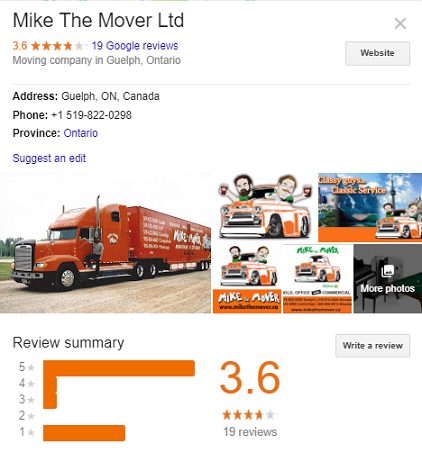 Mike the Mover Ltd – reviews
This Guelph moving company offers worry-free moving services for residential or corporate moving, commercial moving, local and long distance moving needs.
It was established in 1972 and for more than 30 years has built a reputation as one of Ontario's best movers.  It owns a 30,000 sq. ft. warehouse to provide secure storage services.
Over the years, it has won various awards as best moving company from prestigious organizations such as Waterloo Chronicle Readers' Choice Awards and Guelph Mercury Readers' Choice Awards.
It is an agent of Mayflower which makes it well-equipped to handle all types of long distance relocation.
Westmount Moving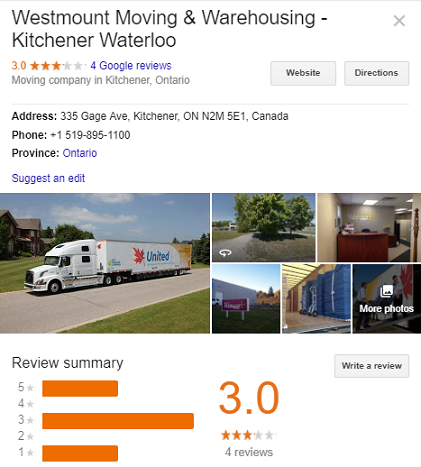 Westmount Moving – reviews
This moving company was established in 1938 as a neighborhood mover.  Today, it serves the Kitchener-Waterloo region as one of Ontario's best movers. The company offers a variety of moving services including:
Local or long distance moving
General cartage
Secure storage
Professional packing services
Moving from Canada to the USA
The company can help you relocate anywhere in Canada or across the continent.  It is a member of United Van Lines, Canada's largest moving van line.
It is also a member of the Canadian Association of Movers, the International Association of Movers, and the Better Business Bureau.
Grand River Moving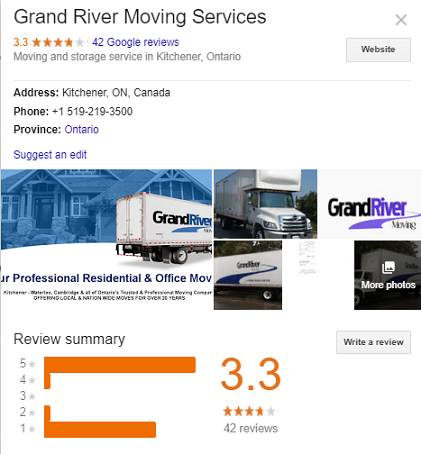 Grand River Moving – reviews
This local and family-owned moving company serves Kitchener, Waterloo, Cambridge, Guelph, Brantford, Milton, and all surrounding areas.
It can help you pack, provide packing materials, relocate your goods, provide storage locally, within Canada, the USA, or overseas.
It is an agent of Countrywide Van Lines and can conduct long distance moving from coast to coast, supported by 48 other independent moving companies.
These are but some of the best moving companies that can help with your relocation to Kitchener-Waterloo.  We know it isn't an easy decision and we want to help.
Take advantage of our free moving quotes to select the right mover for your Kitchener relocation.
Get Lower Moving Prices from Kitchener Movers
For just 2 minutes, get 5 free movers' quotes – they are no obligation quotes that can help you find the best moving company.
You just have to fill-out one short online form; no need to repeat your information multiple times from one mover to another.
Shop for lower prices of moving services by receiving competitive moving quotes from professional movers near you.
Want the cheapest moving rates? Need a moving company for relocating from Kitchener to the USA? Our wide network of movers has the right moving company for your needs.
Save time and get more value for your money with excellent moving services from free moving quotes.