5 septembre 2015,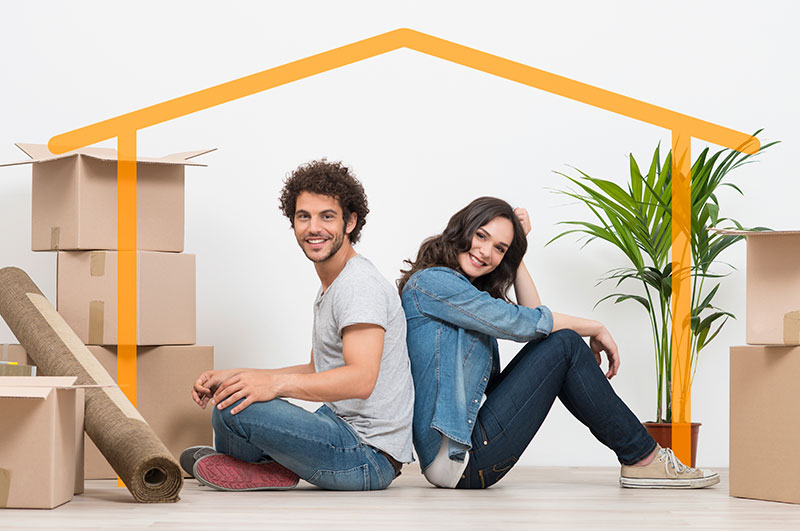 If you happen to live in Calgary and are currently looking to compare moving trucks or hire a moving company, you can easily get confused with the huge number of companies, services, and price offers. Add to that the different, wildly varying reviews that you find on the internet about each and every one of them. So, what's the deal with all these? Who's the best and who should you avoid? We're asking and answering these questions, and a whole lot more in this article, so keep reading.
At this point, you want to find the cheapest Calgary movers but before you make your decision, it is better to know all your options. Definitely, you want to get the low-down on how moving companies charge, make a moving companies' price comparison, and get a list of the best moving companies. Below you will find everything you need to know to find the perfect moving company and save money from your moving expenses.
Number 15: Two small men with BIG hearts (Total Service Moving)
This moving company has been voted Consumer's Choice for 10 years in a row, from 2001 to 2010. Now that's a lot of experience under their belt with various awards of excellence that speak of quality service and professionalism. They offer a wide array of services including local moves, spreading across Calgary, Red Deer, Edmonton and a host of others. They also offer long haul moving, and they bring big trucks with loads of space and professional drivers to ensure the safety of your goods for the whole duration of the move, no matter where you choose to go, Canada or the US.
The interesting thing about Two Small Men is that they also offer office moving, car transport and moving supplies for very low fees. Commercial relocation cost is not that different from residential moves but would require experienced and professional handling to avoid damage to office equipment and avoid unnecessary business interruption. This company can take care of everything to ensure your equipment and supplies are transported as quickly and carefully to your new address. Further, this moving company also offers transport of delicate and big items such as boats to ensure safe delivery.
If you require moving supplies, their website features their store and a wide variety of quality boxes, packing tape, and more that you can order with a fast and easy payment method.
This moving company has not been without its share of controversies with customer complaints in the past. In 2010, its branches in Surrey, Richmond, London, and Kamloops got F ratings from the Better Business Bureau due to numerous complaints covering a 3-year period. Its Toronto operators likewise faced similar complaints. http://www.cbc.ca/news/canada/british-columbia/large-moving-company-faces-charges-upset-customers-1.885662.
CBC's video recounting consumer troubles with TSM gives more details of the story.
It is important to note that there are more than 30 Two Small Men with Big Hearts Moving offices across the country that handle anywhere from 25,000 to 30,000 household moves each year. This company has taken serious note of the problems and has made a real effort to resolve them. As a result, they have regained customers' trust and have gotten good ratings in more recent years.
Their scores on review websites:
Yelp: 3.5/5 stars
Google: 3.9/5 stars
Homestars: 7.7/10 stars
Get 5 FREE Moving Quotes!
Compare Moving Companies in Canada & USA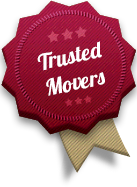 « * » indique les champs nécessaires
Number 14: Jay's Transportation Group
This moving company has moving and freight divisions with 11 full service branches in Saskatchewan and Alberta. Their freight services take care of less than truckload and truckload freight, including dry and refrigerated services. On the other hand, their Moving and Storage Division is an agent of Atlas Van Lines providing full service short and long distance and international moving services. They also handle commercial and specialized moving and short and long term storage.
They have modern and properly maintained vehicles that guarantee the timely and safe arrival of your belongings.
If you are moving for the first time or don't want to be stressed out, it pays to go with an Atlas Van Lines agent like Jay's Transportation Group. Avoid truck rental hassles to your new destination by hiring this professional moving company.
In addition, they also offer reusable plastic bins as an alternative to corrugated carbon. Great for the environment and great on your wallet, too! They also give 100% refund for returned cartons.
Their scores on review sites:
Google: 4.2/5 stars
Homestars: 9.6/10 stars
Number 13: AMJ Campbell Calgary
AMJ Campbell Calgary focuses on quality and customer satisfaction. Majority of their reviews and testimonials talk about their dedication to their job and the high rate of satisfaction of its customers. Their good work has resulted in 6 awards in the industry and is now the largest agent of Atlas Van Lines network offering local, national, international, household and corporate moves.
The company provides a wide variety of moving services to fit each individual customer's needs within the cities of Calgary, across Canada, or to the US and overseas. They offer free in-home estimates to give you a clear idea of your moving service cost.
Their scores on ranking sites:
Yelp: 4.3/5 stars
Google: 4.3/5 stars
Homestars: 4.4/10 stars
Number 12: Alberta PRO Movers
Calgary Movers is among the top moving companies that offer a full range of services for relocation, packing, loading, unpacking and storage facilities in Calgary.
With more than 31 years of experience, this moving company offers fully insured moving trucks and free use of wardrobe boxes for all local moves. They also rent frogboxes that are delivered to you ready to pack and picked-up when you are finished. This saves you a lot of time and money, too.
They offer guarantees you will love – they will arrive on time and will transport your belongings to arrive in the same condition they were when they left.
Their scores on ranking sites:
Google: 5/5 stars
Yellow Pages : 4.4/5 stars
Number 11: Super Duper Movers
This moving company promises to provide honest moving quotes that will be worth your every penny. Their services include local moving, long-haul, international, packing and unpacking, storage, and commercial moving.
They offer Go Green Moving Supplies with their Super Duper Packer that can save you hundreds of dollars. It can hold a lot of stuff with dimensions of L59″ W30″ H35″ to accommodate your belongings. They also offer Corrugated Plastic Wardrobe Boxes for local moves. This option is definitely cheaper than buying cardboard boxes and more environment-friendly, too.
Their scores on ranking sites:
Yelp: 4/5 stars
Google: 4.4/5 stars
Homestars: 10/10 stars
Number 10: Two Amigos Company
Although the name sounds Spanish, this moving company is 100% Canadian. They specialize in commercial, long haul, corporate, short distance and long distance moves, international moving, and government relocation. They also offer a special package for senior citizens who wish to relocate and provide a seniors discount. A Senior Project coordinator takes care of the relocation of elderly customers.
With more than 24 years of experience and with branches in Winnipeg and Regina, they are equipped to handle all your moving needs. They go one step further by offering a guarantee of 10% less on the difference in your moving quote in case their competitors offer a reasonably written estimate that is lower than theirs.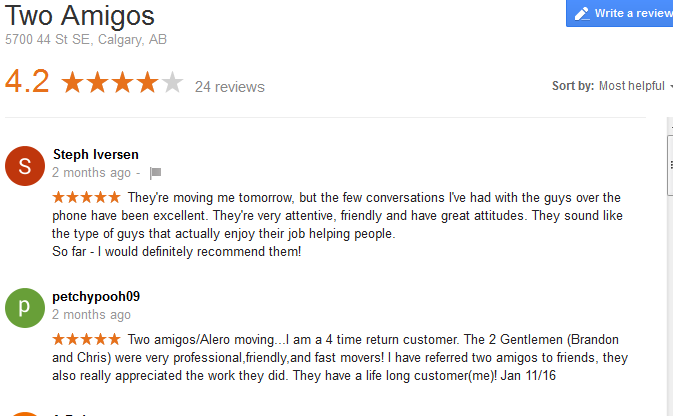 Their scores on ranking sites:
Google : 4.2/5
Yelp: 4/5 stars
Homestars: 10/10 stars
Number 9: Bill & Ben Movers
This moving company has an A+ rating with the Better Business Bureau, proof that they have satisfied many of their customers in terms of moving services. They provide long and short distance relocation, commercial moving, delivery, packing, storage and moving supplies. Their trucks are GPS enabled so you know at all times when you can expect your belongings to arrive.
They boast of high technology trucks that are kept in good condition and not older than 5 years.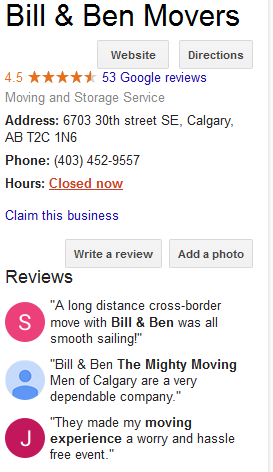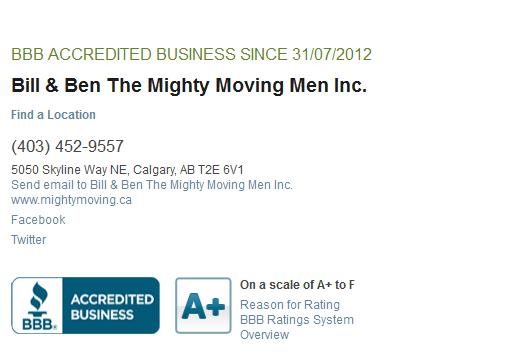 Their scores on ranking sites:
Yelp: 4.5/5
Google: 4.3/5 stars
Yellow Pages: 4.5/5 stars
Get 5 FREE Moving Quotes!
Compare Moving Companies in Canada & USA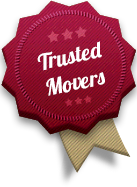 « * » indique les champs nécessaires
Number 8: Red Mile Moving
Red Mile Moving is a trusted and preferred moving company in Calgary. It started operations with one truck in 2007 and has become one of the leading affordable movers in Calgary. They provide a wide array of moving services for household and commercial moves, local, long distance or international.
They provide you with any kind of help you need to move, whether you need just extra hands for loading or the whole gamut of moving services.
One the unique things about this movers is the fact that they don't have minimum charges, mileage charges, fuel charges and truck charges. In fact, they bill quarter of the hour without rounding up which is quite unlike other moving companies. This means you pay for the actual time it takes for them to complete your move and nothing more.
Their scores on ranking sites:
Google – 4.2/5 stars
Yelp – 5/5 stars
Number 7: A Plus Movers and Storage
This moving company is known to move your things quickly and efficiently. Established in 2005, it first operated in Ontario servicing local moves then branched out to long distance moves. Their hourly rates start at $99 – $149 hourly. In business for 10 years, it has satisfied many customers and received positive and favorable reviews for their moving services.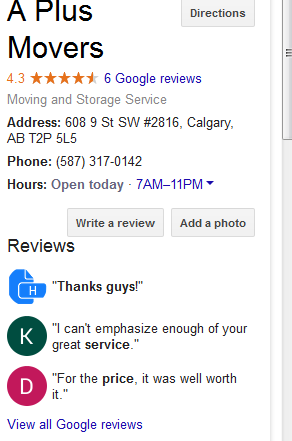 Further check shows that this moving company may have closed its doors. A pity, as it has really good ratings from satisfied customers.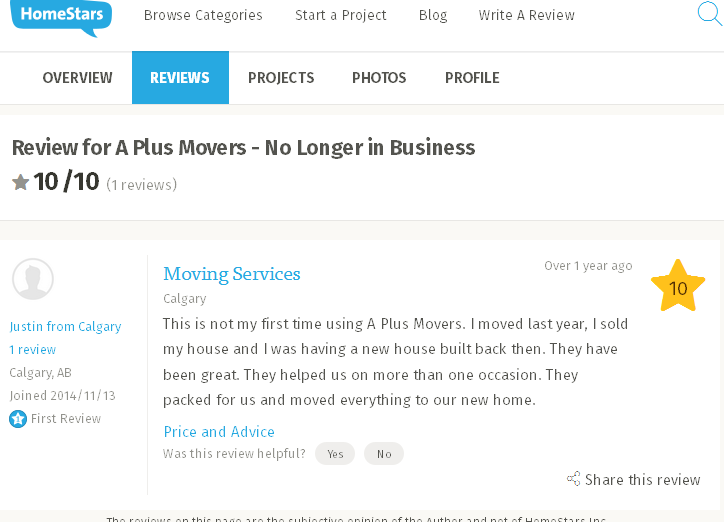 Their scores on ranking sites:
Yelp: 5/5 stars
Google: 4.3/5 stars
Homestars: 10/10 stars
Number 6: Best Moving Companies Calgary
This company, from the name alone, says they know all about moving and commit to make your move stress and worry free. It is one of the best independent moving companies in the industry and adheres to strict standards of safety and customer service.
They provide affordable moving services for students, local moving, long distance moving, packing and storage services. They have gotten very high customer reviews for overall satisfaction rating.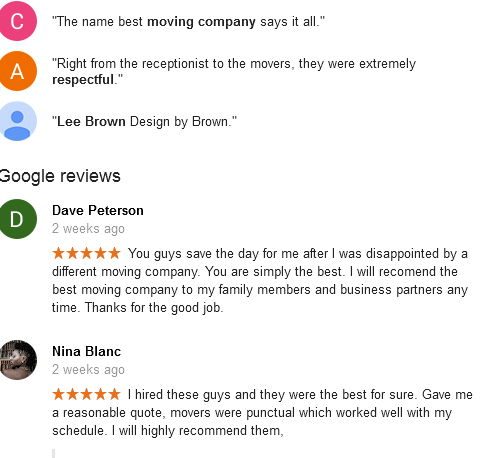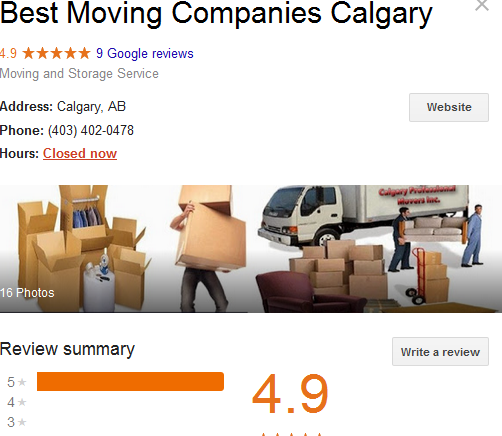 Their scores on ranking sites:
Google – 4.9/5 stars
Number 5: Premiere Van Lines
This moving company used to be called Classic Moving & Storage Ltd. It has grown to become one of the most successful and biggest moving companies in Canada, with over 35 years of industry experience.
They offer comprehensive moving services including local and long distance moving, international moving, short and long term storage, professional packaging and crating and packing materials. They also take care of boat, automotive and motorcycle relocation.
Their scores on ranking sites:
Yelp: 4.5/5 stars
Homestars: 9.5/10 stars
Number 4: Calgary Professional Movers, Inc.
This moving company based in Calgary, Alberta is family owned and established in 2000. They are experts at residential and corporate relocations, apartment moving, full service moving, and offer portable storage solutions, and packing and unpacking services.
They aim to assist students who need moving services with 5 complimentary book boxes. As a fully insured and licensed company, they make it their goal to make all moves easy and affordable for its customers.
They really make relocation a lot less stressful. Find out more below in this video. .
Their scores on ranking sites:
Google – 4.7/5 stars
Yellow pages – 4.5/5 stars
Get 5 FREE Moving Quotes!
Compare Moving Companies in Canada & USA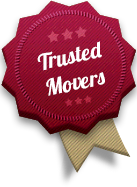 « * » indique les champs nécessaires
Number 3: Marvelous Movers
This moving company is one of the best in Calgary and provides all types of moving and storage solutions at affordable prices.
They know that packing is a major moving hassle so they offer the following solutions:
Single Room Packing
Packing of an Entire Home
Wardrobe Packing
Single Item Packing
Loading and Unloading
Unpacking
For storage solutions, it gives residential and commercial clients assistance with moving items from home or office to the storage facility and deliver them when needed to be returned. Their facilities are temperature-controlled and very secure with video monitoring and alarm systems. This is the perfect solution for renovation and remodeling projects.
This moving company enjoys a high satisfactory rating from customers as evidenced by very positive and favorable customer feedback.
Their scores on ranking sites:
Homestars – 10/10 stars
Number 2: You Move Me
This Alberta moving company not only promises to make your move stress-free but they actually deliver on that promise.  Their mission: to have upfront and transparent rates, arrive at your home on time, and provide you with excellent movers.
They only have a one-hour minimum charge, unlike many companies that require a minimum of 2-hour jobs. This means you only pay for the actual time of work and not a penny more.
They also offer a unique service – full service junk removal for homes and businesses so you can find relief from junk.  They also partnered with Aspenclean to provide move in/out cleaning service where customers can save $20 off their cleaning bill.  As you can see, this company has really taken the time to think of everything you will need for your relocation.
You Move Me – Google review
Their scores on ranking sites:
Google – 3.6/5 stars
Yelp – 5/5 stars
Number 1: Viktoria Professional Movers
This moving company is family owned and operated Toronto moving company with branches in Calgary, Halifax, and Vancouver. With more than 30 years of experience, their goal is to provide value to families moving all over the country with for short and long distance moves, household and office moves, storage and packing services.
They offer to customize moving services to suit the needs of their individual customers regardless of the size of the move or whether you need storing for only one large item or a whole household.
Their trust rating is pretty high as members of the Better Movers Group, Canadian Association of Movers, and the Better Business Bureau with a rating of A+.
This is a well-reviewed company which goes to show how many households and offices they have served throughout the years with a high level of customer satisfaction.  Their customer reviews are pretty amazing!
Their scores on ranking sites:
Yelp – 5/5 stars
Homestars – 9/9/10 stars
3 EASY AND FREE STEPS TO COMPARE MOVING COMPANIES' PRICES
Planning your move may seem overwhelming, even stressful at this point. But if you take advantage of free moving quotes online, you can cut your work in half and do away with all that stress.
Moving service cost is easy to find with our free 5 moving quotes that are quick and with no obligation on your part. Here is what you need to do to get started with planning your move:
Click request 5 free quotes from www.5moversquotes.com.
Contact your moving companies to schedule an in-home estimate as soon as possible.
Compare moving companies and choose the most affordable but high-quality moving package based on your needs and moving budget.
There is no better way to get a move efficiently and economically done than to hire movers in Calgary with the best experience and reputation in moving households and companies across Canada.
By reading our Canada movers' reviews and asking the right questions from your movers, you can experience a local or long distance move in less time and without the complications.
Keep checking our posts about moving in Canada or the US as we continually provide new information to make moving better for everyone.