9 juin 2016,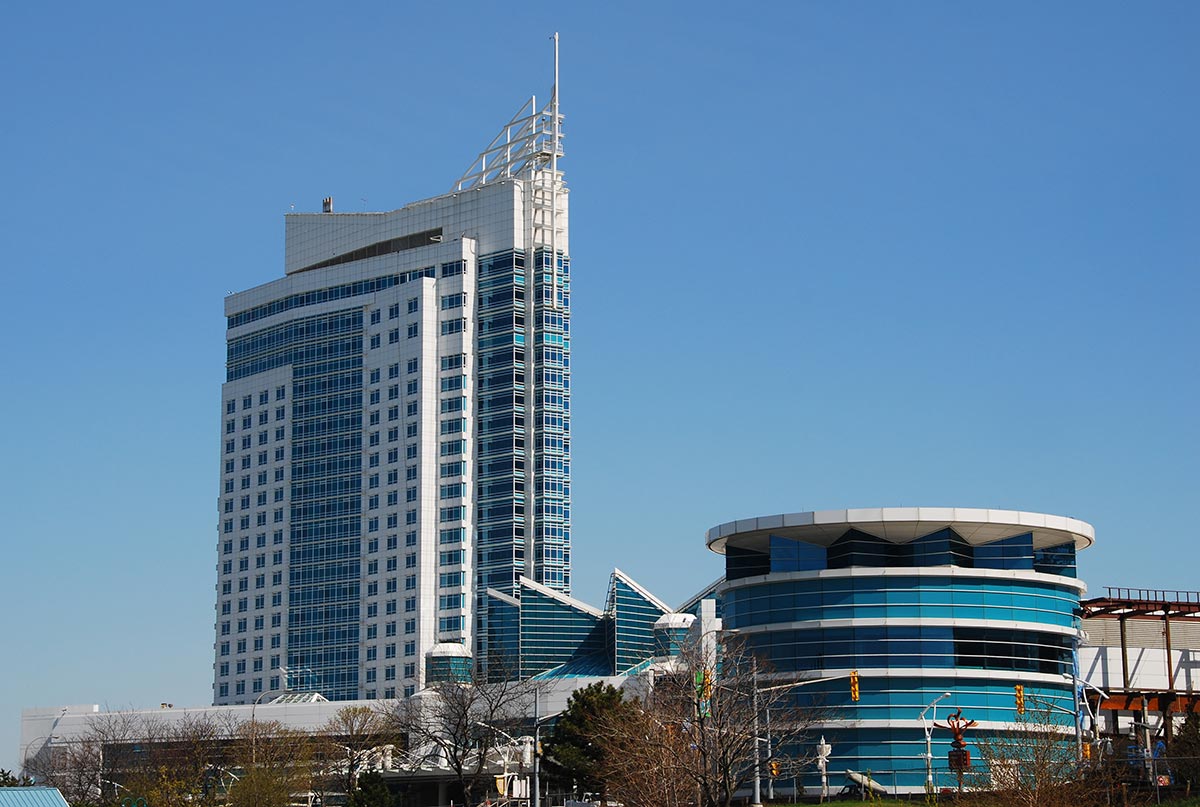 Are you moving to Windsor soon? Planning a move means obtaining as much information about Windsor and looking for the best method of relocation.
Whether your move is just 2 blocks away or 5 hours away, it is important to choose a reliable moving option for the safety of your household goods and to keep moving costs reasonable.
You can benefit from huge savings when you get the lowest moving rates from our partner moving companies.
By clicking our quick request form, you can get free and no obligation quotes to connect with local and long distance movers in your area. Compare and choose the best moving deals to suit your budget.
Check Moving Reviews and Compare Actual Moving Quotes
It is important to base your decision on accurate information about rates and services.
For only 2 minutes, you can make contact with top moving companies to relocate you to Windsor at affordable rates.
Below you will find detailed information about the City of Windsor and a review of top Windsor moving companies for your consideration.
Relocating to Windsor, Ontario to Live and Work
If you are considering a move to Windsor, you would want to get as much information about the area as possible. We have put together all that you need to know to help you plan your relocation.
Windsor's population was about 211,000 as of 2011.  Its metropolitan area is composed of Windsor, Amherstburg, LaSalle, Lakeshore, and Tecumseh.
Windsor is strategically located near the US and Toronto
It has an advantageous location – 5 minutes away from Detroit, 5 hours from Chicago, and 4 hours to Toronto.
Thousands of the city's residents work in the automotive manufacturing sector with employers like Ford, General Motors, Chrysler and many other smaller companies making auto-related supply parts.
Windsor has cheaper cost of living compared to many Canadian cities.  Rent is 53.79% lower in Windsor compared to Toronto and consumer prices are 21.68 % lower compared to cost of goods in Toronto.
Easy Moving to Windsor Tips with Review of 6 Top Windsor Movers
Planning a relocation starts with deciding how to move your household goods.   Some people can be satisfied to simply get a moving truck from U-Haul or to make multiple trips using the family car.
But these DIY moving tricks don't work well for everyone. If you are moving a 2-bedroom home from Toronto to Windsor, you will need a more organized and efficient method to ensure the safety of your goods and keep moving costs reasonable.
Moving Companies Don't Cost Much More than DIY Moving
How much does it cost to move from Toronto or any other city in Ontario to Windsor?
This is the biggest concern of most people planning a move. If you just call around to ask for prices and compare that with the advertised rate of a U-Haul truck, it will seem like it is too expensive to hire a mover.
But to be able to do an actual comparison, you'll need to really make a detailed costing of a DIY move and compare it with a moving company's services.
The Actual Costs of a DIY Move
If you decide to hire a U-Haul rental truck, you don't just pay for hourly rates. You also pay for fuel, mileage, your own moving supplies, moving equipment such as dolly and furniture pads, moving insurance, and you'll need to do all the loading and the driving.
What's your time and comfort worth? Will you need to feed friends you've asked to help you out?
Moving Companies Offer Economy Moves and Premium Moving Services
Moving companies want to stay competitive so they also offer economical moving packages that include a moving truck and movers. Their rates already include free use of moving equipment. For long distance moves, they also offer packages that include unlimited shrink wrap and packing tape, moving boxes, and basic moving insurance.
Trained movers will help with disassembly and assembly of your furniture, do all the heavy lifting, and you won't have to worry about doing the driving. You can just wait comfortably in your new home for your household goods to be delivered.
For people who need more help, such as with packing and garbage removal, moving companies offer these services. In fact, for people willing to pay a bit more for the additional services, they offer a complete turn-key moving package where you don't have to lift a finger.
How Moving to Windsor Costs Are Calculated
There should be no hidden formula for calculating moving costs.  Professional movers provide transparent moving rates for local and long distance moves.  A long distance move is generally 100 km or more from origin to destination.
Long Distance Moves Are by Weight and Distance
For long distance moves, moving companies use distance and weight to compute charges. For this reason, professional movers will insist on an in-home assessment prior to your move to take assessment of the weight of your inventory.  This allows them to provide you with a fair and accurate moving quote.
On the day of the move, the movers will do a final weigh-in of the goods. You will be given a final moving quote based on the weight. If you were given a not to exceed moving estimate, your final moving bill will not be more than your initial estimate.  If the final weight is less than the original estimate, the moving company can adjust the cost to a lower price.
Local Moves Are Billed Hourly Charges
If your move is less than 100 kilometers, it is usually considered a local move and will be charged hourly rates.
When you request for a moving quote, the moving company will provide you with their hourly rates inclusive of moving truck or 2 to 4 movers.  Their rates vary based on the size of truck your move requires and the number of men needed to do the job.
So keep in mind when you compare moving rates that it also depends on the size of truck and the number of movers included.  Moving trucks can be from 18 feet to 26 feet.  For long distance moving, large professional moving companies may have moving trucks for larger moves that are as big as 5-ton trucks.
Review of 6 Best Movers in Windsor and their Moving Services
In order to know a good moving company, it is important to compare not only moving cost but their quality of services, company experience, and many other factors.
For example, some movers charge lower rates but add charges for fuel, stairs, heavy lifting, and even long walking.
There are professional movers that offer moving rates without add-on charges. Thus, you'll need to also examine their moving rates carefully and ask the right questions.
Below are 6 best movers in Windsor to show you their different moving services and prices.
Hinton the Mover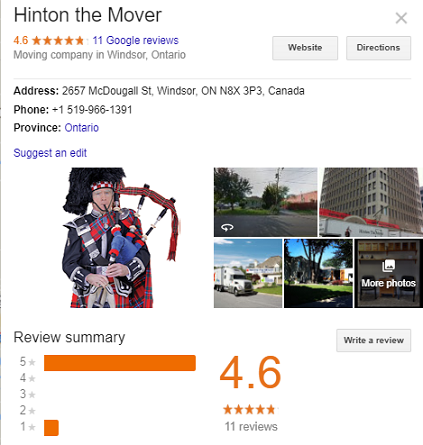 Hinton the Mover – reviews
This full-service moving company in Windsor offers household moving and office moving locally, long distance, or internationally.
As a one-stop shop for relocation services, it offers packing and unpacking, piano moving, local and long distance moving, storage, and senior moving services.
It is a member of the United Van Lines and is affiliated with the Campbell Group of Companies.  It is also a member of the Canadian Association of Movers.
This company can be depended on for moving to Toronto, Ottawa, Halifax, Calgary, Montreal, and anywhere in Canada or the USA.
Tank Team Movers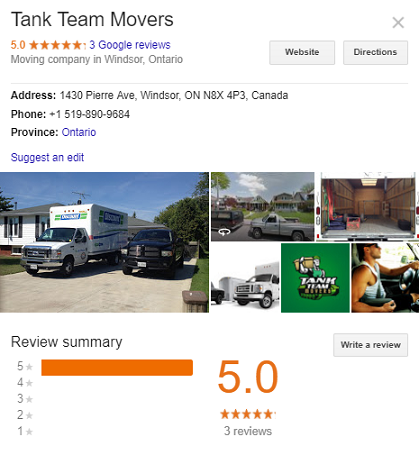 Tank Team Movers – reviews
This moving company is becoming one of the leading movers in Essex County and Windsor.  With just over 3 years of industry experience, it has proven itself to be reliable when it comes to moving families in the area.
Their moving services come complete with moving equipment needed such as screw drivers, wrenches, Allen keys, moving blankets and pads, dolly, and bungee cords.
For local moves, they offer moving rates for truck and movers for as low as $99.99 to $149.99 per hour (their rates come with minimum number of hours).
For moving long distance from Windsor to Toronto, their package starts at $1299.00, to Ottawa at $1799.99, and to London at $999.99.
AMJ Campbell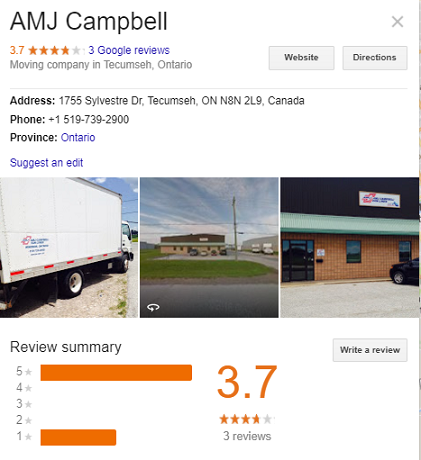 AMJ Campbell – reviews
This Western Ontario moving company is a one stop shop for moving services. Its name is synonymous with relocation, being a well-known brand in Canada and the USA.
AMJ Campbell started out as a family business but today has 6 partners offering superior moving and storage services.
You can expect to get quality moving services including:
Packing services
Crating
Local or Long distance moving
Senior relocation
International Moving
Storage
You can receive competitive moving quotes for your Windsor relocation.
The Storage Box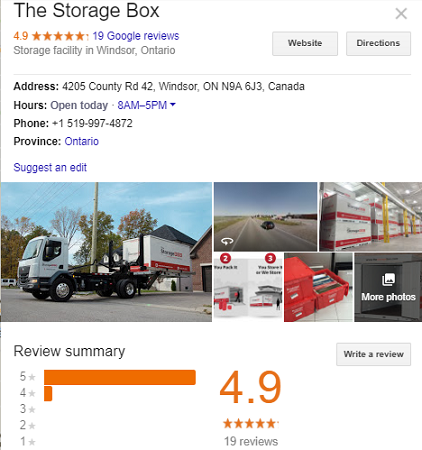 The Storage Box – reviews
This moving and storage company offers a convenient and affordable moving solution. The company delivers a portable storage container using their tilt-free system which you can pack and load with your goods. On schedule, the company picks-up your container and stores it or delivers it to your destination.
There is no maximum or minimum rental period but the minimum charge is for 1- month rental.  This means you can take the time you need to pack and load at your convenience.
Their portable containers are 16-ft long, 8 feet wide and 8 feet tall.
Rose City Movers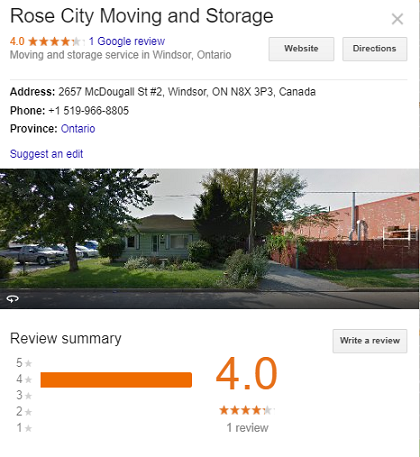 Rose City Movers – reviews
This moving company does local, regional, and international moving with branches across Canada.  It is a member of Mayflower Canada and offers customers a full range of moving services.
It is part of First Ship Moving which has various affiliations in the moving industry.
Aside from its regular local and long distance moving services, it also provides customers with an affordable Do-It-Yourself option.  The company can provide a portable moving container and then deliver it to your destination. This moving solution can be ideal for the budget-conscious and for moves that are not time sensitive.
Glen's Moving and Storage Windsor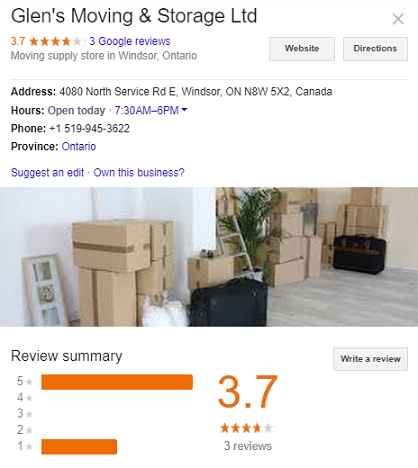 Glen's Moving and Storage Windsor – reviews
This family-owned moving company has been around since 1976.  It offers premiere residential and commercial relocation services in Windsor and Essex County.
Its services include partial moving, complete moving services, local or long distance moves in Ontario, and moving of piano and other heavy objects.
It is a member of the Canadian Association of Movers and the Ontario Chamber of Commerce.
Professional Full-Service Movers Can Move You from Across Canada
Movers in Toronto, Ottawa, Montreal, and other cities can help relocate you from your location to Windsor. It is also recommended to hire a mover from your current location. Most full-service movers can handle long distance moves anywhere in Canada.
You can check out our review of top Toronto Moving Companies and moving tips for moving from Toronto to Windsor or anywhere in Ontario.
5 Things to Watch Out for When Hiring a Moving Company
Like everything else we find in the market, consumers should also be picky with a moving company.  As they say, you get what you pay for.  It is important to choose a moving company carefully because it will be handling your most prized possessions.
Before hiring a moving company, always check the following:
Is the company licensed and insured?
Does the company have full-time movers and the right-sized moving truck displaying their company name?
Does the company have a physical office and a landline?
Is the company registered with the Better Business Bureau or other professional moving associations?
Does the company provide a written guaranteed moving quote?
By checking on these 5 important details, you can avoid a lot of stress and headaches that go with moving.
Request Free Moving Estimates for Moving to Windsor
There are several ways you can move to Windsor. The method you choose will have a big effect on your moving costs.
Depending on your priorities – cheaper price, high quality, or somewhere in between, you need to be able to compare costs to make the best decision.
It starts with requesting free moving estimates from professional movers to allow you to look at prices and services you can choose from.
Get Economy Moving to Turn-Key Moving Quotes
From economy moves to turn-key moving services, our moving partners offer the right moving solutions to suit your needs and budget.
It only takes 2 minutes to tell us what you want for your move – fill-out our quick online form with your address, destination, date of move and other details.
Our moving partners will quickly respond with competitive moving quotes tailored to your moving information.
Take advantage of free and no obligation moving quotes to find the best Windsor moving company.