7 juin 2016,
London, Ontario is not as famous as its namesake or bigger Canadian cities like Vancouver, Toronto, Ottawa, or Montreal. However, it has become a popular moving destination in Ontario over the last decade.  In fact, migration data within Canada from U-Haul shows that London was the 6th top destination for moving trucks in 2015.
Today, it is one of Canada's largest cities in terms of population, with about 383,200 residents (according to Canada Statistics 2016 data) and growing.  Forest City, as it is fondly called, is only 2 hours away from big brother Toronto, an hour away from Michigan and a few hours away from western New York.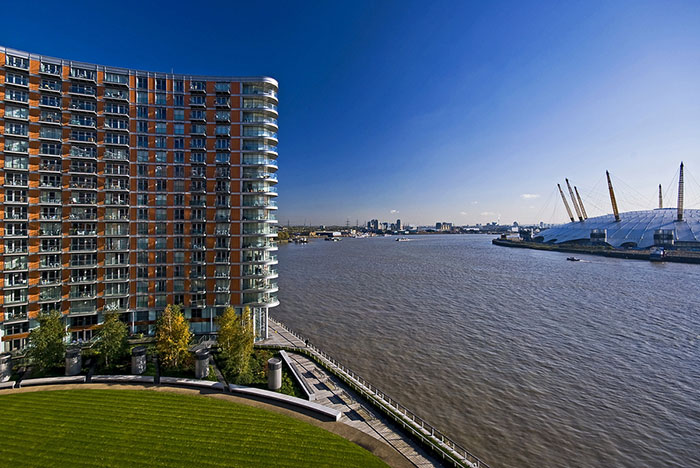 Planning a Move Should Start with Finding the Best Mover
If you are relocating from Toronto to London, or from anywhere in the GTA, you'll want to find the cheapest but efficient way to do it. Planning your move should start with finding the best moving company to help you out.
Do you want professional movers in London to relocate you without breaking the bank? You're in luck!
Request for 5 free moving quotes from London professional moving companies to compare costs and find the lowest moving rates.
Students Moving to London – Find Cheap Student Moving Services from London Movers
London, Ontario has a big student population. From September to April, thousands of students are in the city to attend Fanshawe College and the University of Western Ontario.
Did you know that professional movers usually provide discounted student moving services? If you are moving to a dorm or an apartment in London, you can have a stress-free move from anywhere in Ontario.
There is no need to haul your moving boxes and books across Ontario in a rented truck. Talk to our partner moving companies about student moving services and get your belongings safely to London with low moving rates.
5 Things about Moving to London to Live and Work You Need to Know
Many people living and working in London will say they are happy. There are many things to be happy about in these parts.
London's economy is boosted by its strong manufacturing sector. Its proximity to the US border has made it a vital economic hub.  It also has growing sectors for information technology and food processing.
People are moving to London because of its affordability, low crime rates, good mid-sized neighborhoods, lower child care costs, and abundant recreational facilities.
1. Best time to Move to London, Ontario
Living in Canada means you must get used to the weather. London is not as cold as Winnipeg or Edmonton but you get about 4 months of nice weather and the rest of the year is what is called winter weather.
If you are moving to London, the best time to move would be the spring or fall. The city's average temperature would be 10 degrees C (50 degrees F). The winter here can be hard for people moving from warmer climes. The average winter temperature is -6 degrees C (21 degrees F).
If you need to move during the summer, know that it's going to be hot and humid with average temperature of 20 degrees C (68 degrees F).
Sometimes, we move when we need to move
In truth, the best time to move is when you have to move. Sometimes, we can't pick the season due to a change in job or other important life events. However, hiring a professional London moving company can help you relocate more conveniently. Movers can take care of transporting your household goods while you focus on other important stuff.
2. Finding Good London Neighborhoods to Move to
London, Ontario has an active real estate market. While other regions are seeing a slow-down in home sales, London has seen a rise of home sales by 9.9% by mid-2017, according to the London and St. Thomas Association of Realtors.  The average home price in the city is $331,524, certainly much lower than Toronto's average price of over $1 Million.
There are several great neighborhoods to move to in London.
✓ South London has Wortley Village which was voted Canada's Best Neighborhood by the Canadian Institute of Planners.
✓ Downtown London has the University of Western Ontario and a central hub for university students.
✓ North London is surrounded by the beautiful Thames river and features many historic sites and unique homes.
✓ East London is popular among young families and is rich in heritage.
You can consult this London neighborhood profiles to know where to rent or find a home in London.
Professional movers can help you get settled in your new home faster and without a hitch.  If you are still in between homes, a full-service moving company can store your household goods short-term or long-term and deliver to your location whenever you are ready.
3. In London, people live and work globally.
Many national and international businesses call London, Ontario home. This has provided local residents the opportunity to live and work globally. Being so close to the US border, many residents hop to the other side to do their shopping because many US products are much cheaper there. Port Huron, Michigan is a mere hour away while Detroit is a couple of hours' drive.
4. London offers the best location for businesses.
The city of London, Ontario offers businesses with a distinct advantage – its strategic location.  It is halfway between Toronto and Michigan, USA and close to no less than 6 USA border crossings.  It has plenty of available retail and commercial spaces for lease or sale and a skilled workforce of almost 270,000.  London has everything that an entrepreneur needs to get his business flying.
If you are planning to relocate your business to London from anywhere in Canada, professional moving companies provide commercial or office moving that is cost-effective. You can choose from large van lines to smaller moving companies  to relocate your business for less downtime and business interruption.
5. Toronto Movers Offer Regular runs to London.
If you are moving from Toronto, you should know that Toronto movers offer regular runs to London. You can save money on moving costs by hiring Toronto moving companies to transport your household goods.  Even if you are going the other way, meaning London to Toronto, they can also accommodate your cargo so you can save on moving costs.
If you need more than just a moving truck, you can also obtain Toronto professional packing, moving, storage services, and moving supplies for a smooth and affordable relocation.
We hope these moving tips will help you to decide how to move to London and make your relocation enjoyable and stress-free.
Review of Top 10 London Moving Companies: How They Can Make Moving to London Easy
Some would say moving companies are a dime a dozen. There are so many of them that you could be tempted to just choose one based on the lowest price.
But that would be a huge mistake. Moving companies aren't made equal; they vary not just on moving prices but more importantly, experience, reputation, services, and quality.
It can't be stressed enough that choosing a good moving company is very important to ensure the safety of your household goods, your security in letting strangers into your home, and the overall quality of your moving experience.
Below are 10 professional moving companies from London offering high-quality moving services and affordable moving rates. Check out how their customers rate their services and what moving services they offer that can help make your relocation to London much easier.
Robson Moving and Storage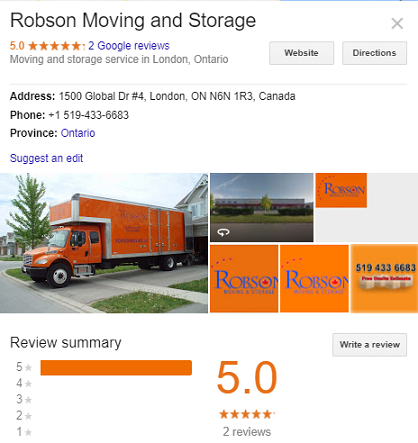 Robson Moving and Storage – reviews
This moving and storage company in London is family-owned and operated since 1979.  It is an official agent of North American Van Lines and can relocate you to London anywhere from Ontario or Canada.
Its moving services includes partial or complete packing, heavy equipment moving, custom crating, local and long distance moving, office moving, and storage.  It carries all the necessary insurance to guarantee the safety of your cargo.
It is affiliated with the Canadian Association of Movers and has an A+ rating with the Better Business Bureau.
Campbell Brothers Movers Ltd.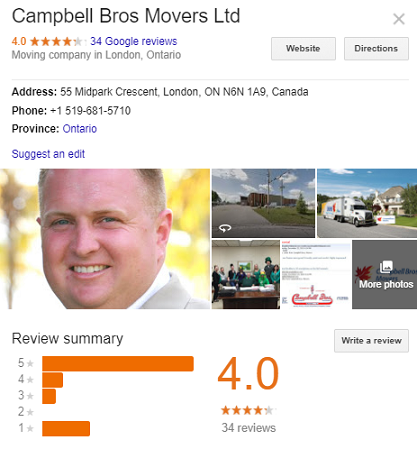 Campbell Brothers Movers Ltd – reviews
This moving company is a member of the Campbell Group, the largest stockholder of United Van Lines and sister company Mayflower Van Lines.
Located in London, Ontario, this moving company offers many advantages to its customers, including guaranteed moving estimates, long distance moving container options to save on moving costs, economical storage options, and high quality moving services.
In fact, if you prefer not to let movers visit your home prior to your move just to get a moving quote, you can email pictures of your home and inventory and their experienced staff will provide a quote based on your photos.
It is a member of the Canadian Association of Movers and is experienced in local and long distance moving, commercial moving, and corporate relocation services.
Two Small Men with Big Hearts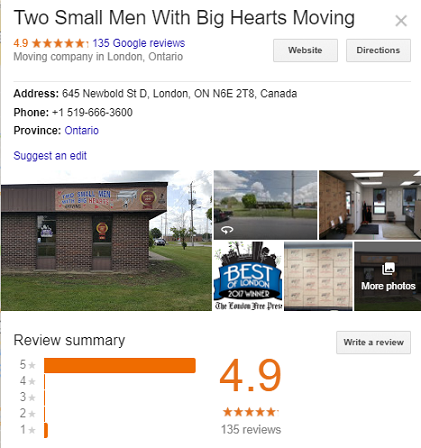 Two Small Men with Big Hearts – reviews
This moving company is part of a franchise of independent movers located throughout Ontario and Canada. TSM in London offers affordable and efficient moving services including professional packing, loading and unloading, for local and long distance moves.
With more than 38 offices across Canada and a fleet of more than 100 trucks, this moving company can definitely help you to relocate to London, anywhere in Canada, and even to the USA.
They guarantee clean and fully-equipped moving trucks, trained movers, custom cartons for packing your mirrors or art objects and wardrobe boxes for your clothing.
They also offer practical storage solutions from their on-site storage facilities.
SS & D: The Movers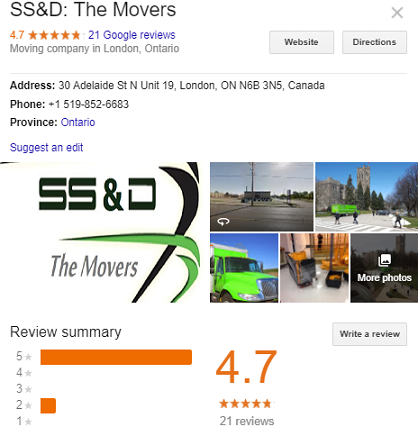 SS & D The Movers – reviews
This moving company was founded in 2007 by 3 friends who saw a demand for quality movers in London.
The company specializes in residential moving, commercial moving services, and storage.  Their moving rates start at $248.97 for a truck and 2 movers for 3 hours, $329.97 for a truck and 3 movers for 3 hours.  These rates also come with free moving equipment like dollies, blankets, and bungee cords.
From condo moves, student moves, to house moves, this moving company can provide you with first-class moving services at very low rates.
Moving Again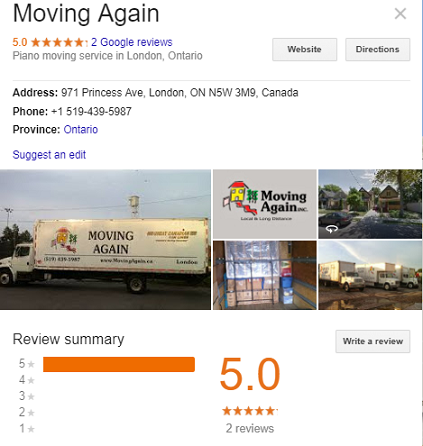 Moving Again – reviews
This London moving company has been in business since 1996.  It specializes in residential moving, office moving, piano moving, packing services, and local or long distance moves.
It is an agent of Great Canadian Van Lines which enables it to relocate you to or from London to anywhere in Canada.
It is a member of the Canadian Association of Movers and is accredited with the Better Business Bureau.
Metropolitan Movers London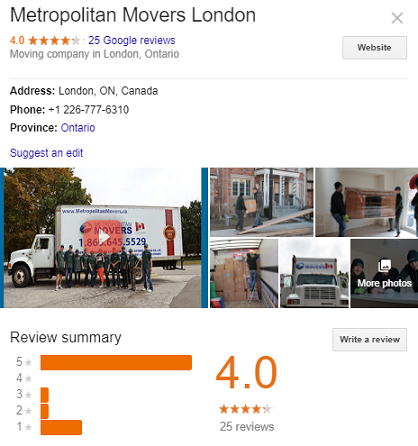 Metropolitan Movers – reviews
Metropolitan Movers was set up in 2010 first as a moving brokerage. In 2013, the company decided it wanted full control over the quality of moving services and decided to transition to a franchise system. Since then, it has won awards for its high quality moving services.
All of its franchise operators, including Metropolitan Movers London, aims to offer stress-free moving services to its customers. It specializes in local and long distance moving, home moving, office moving, senior moving, piano moving, and packing services.
Their moving services come with free moving insurance.
RJ's Movers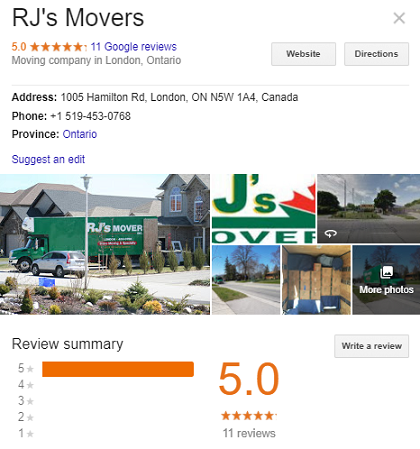 RJ's Movers – reviews
This moving company began its operations in 1969 and is now nearing its 50th mark.  As an independent mover, it values personalized service to its customers.  It specializes in local and long distance moving, packing services, piano moving, and storage.
It provides disassembly and assembly of furniture, clean moving blankets and floor runners, complimentary wardrobe boxes, and free stretch wrap.
Local moves have no fuel surcharge.
The company has won Best of London awards from the London Free Press from 2012-2016.
Brawny Movers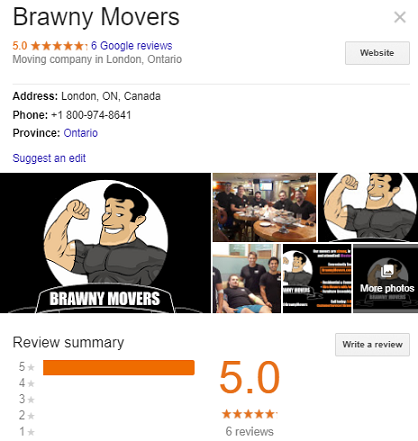 Brawny Movers – reviews
This London, Ontario moving company employs quality movers to ensure high quality moves to customers.  It serves all districts and neighborhoods.
The company offers with or without truck moving services.  If you need moving labor only, the company can provide trained and hard-working movers to help with your packing or loading.
This moving company specializes in household moves, commercial moves, and moving labor only.
Because most of their moving crew are Western University students, the company is an ideal choice for student moves. Their movers are very familiar with student apartment buildings in London.
Kineto Van Lines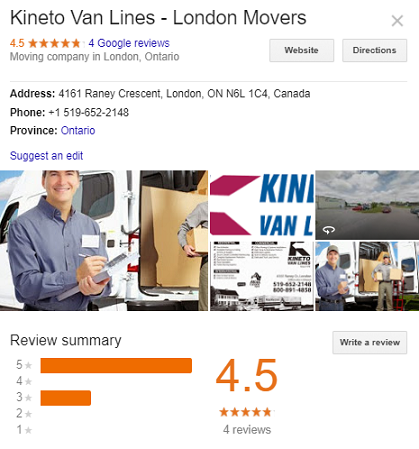 Kineto Van Lines – reviews
This moving company has been operating in Ontario since 1979.  It has conducted thousands of residential and commercial moves.
This London moving company can relocate you anywhere in Southern Ontario, across Canada, the USA or the world.
The cost of a long distance move is estimated once the truck's load is weighed. It will be used to calculate the transportation charges.
Local London moves are charged hourly rates which vary based on the truck's size and number of movers required as well as the time of the move.
Their movers provide full-service moves to Guelph, Cambridge, Kitchener/Waterloo, and all other areas in the GTA.
Kineto Van Lines is also an official agent of Atlas Van Lines.
Maplegreen Moving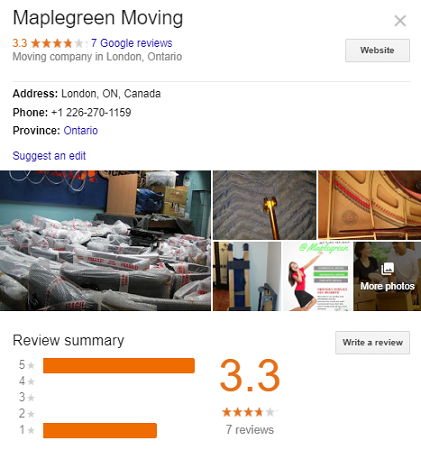 Maplegreen Moving – reviews
Established in 2002, this moving company takes pride in being honest, reliable, and affordable.  It specializes in apartment moving, college student moves, art and antique moving, and business packing services.
It offers a wide array of moving services for residential and office moving, moving and labor, storage, piano or organ moving, and senior relocation.
As an established London moving company, they provide customized moving solutions at affordable prices for relocating across town, across Canada, or even around the world.
Best Way to Choose London Professional Movers and Moving Services
It used to be that finding a London professional mover will take weeks. You can scout your present neighborhood for a moving company or call around to get moving quotes.
But that's all in the past. That method just doesn't work because your choices will be limited only to what's immediately available, Thus, you miss out on better moving rates and higher quality moving services from professional movers.
Shopping for a moving company should be done wisely because your movers will be in charge of all your lifelong possessions. Your choice will also critically impact your overall moving expenses.
2 Minutes, 5 Moving Quotes from London moving companies
The best way to choose a London professional mover is to compare multiple moving quotes from London moving companies.
We want to cut down on the time it takes you to get moving estimates over the phone. We've designed an easier way with our short online request form. For only 2 minutes to fill-in your moving details, you'll get free and accurate moving quotes for moving to London.
Our moving partners serving London, Ontario are all licensed, fully insured, and highly-experienced in delivering all types of relocation services.
London, Ontario moving companies are kept pretty busy by dozens of moves happening daily. Lock-in your moving date by booking a London mover early.
Fill-out our quick online form to connect with the best professional moving companies specializing in relocation to London, Ontario.