30 septembre 2015,
So, you are moving to Ottawa, the nation's capital? This is a time of great anticipation and excitement. Moving to a new city is all about making a new home and a new life. Before the move, there are a million questions in your mind. It will take you a lot of time to get those questions answered. At 5moversquotes.com, we have done a detailed research about those questions to provide you with the answers that can make your move a positive and stress-free experience.
In this article you will find information about:
Steps you need to take prior to your move
The 12 best moving companies in Ottawa
Selecting the right movers
How to Economize Your Move – Save with some Do it Yourself Tips
Insurance Protection for your Belongings during the move
Helpful resources for finding the best schools and jobs
What to find upon your arrival in Ottawa
It can be an exhausting and frustrating experience to get everything settled, starting with finding the right movers. You can start searching by phone and email for moving companies (some take days to answer while some don't even give you an actual quote). It is important to understand what needs to be done so you don't spend more time and money than you should on your move.
How to get started on planning your move
For some people, moving to another city is a step that they have a lot of time to plan. For others, it happened quickly and without much time to prepare for it. The first thing to do is to assess how much you have to move and how quickly you need to move. By knowing the answer to this question, you will be in better position to assess what kind of services you need to get the job done.
By planning ahead, you save yourself a lot of time, money, and stress. Before the big move, know what things need to be taken care of like utilities, change of address, etc.
Once you have assessed the situation, it is time to start your search for the right moving company to hire. There are many moving companies based in Ottawa. While most of them offer the same type of services, they also offer different options and pricing. www.5moversquotes.com has compiled a list of the best moving companies in the city, together with their business information and services offered, to give you a better idea of what your options are.
12 Popular Moving Companies and Moving Services in Ottawa
To give you a clearer idea of moving companies you can choose from, we have compiled a list of the 12 popular moving companies in Ottawa. The list comes complete with their history, services, rates and customer reviews. Some are accredited with the Better Business Bureau so we have included their BBB rating as well to make it easier for you to find the best moving company to hire. When you have a short list, you can also compare with the 5 Free moving quotes you obtain from www.5moversquotes.com.
First Rate Movers, Inc.
This Ottawa moving company has been around since 2003 and is considered one of the best in the city due to excellent customer service and professionalism. Whether you need a full service moving company or just a rental truck, this company is a good choice. They only hire full-time employees which makes their customer service efficient and professional.
Customers can feel assured of this company's trustworthiness because it is fully bonded and is accredited with the Better Business Bureau and the Canadian Association of Movers.
As proof of this company's great service, they have a 4.8 rating out of 5 from 35 Google reviews.
Pronto Movers
If you called a moving company and nobody showed up, you will be glad to know that there is a company in Ottawa who can come to the rescue. Pronto Movers accepts last minute bookings and provides reasonable and professional services.
They have trucks up to 26 ft in size and have all the equipment needed for moving you into your new home. This is a fully bonded moving company and offers flat and hourly rates.
If you don't have a lot of belongings like heavy furniture and appliances, you might be interested in this company that offers hourly rates.
MOVERS ONLY$35/HR PER MOVER*
*Minimum Charge of 3 Hours – 2 hours work + 1 hour travel time
MOVER & TRUCK$69/HR
*Minimum Charge of 3 Hours Applies: 2 hours work + 1 hour travel time
2 MOVERS & TRUCK$89/HR
*Minimum Charge of 3 Hours Applies: 2 hours work + 1 hour travel time
3 MOVERS & TRUCK$119/HR
*Minimum Charge of 3 Hours Applies: 2 hours work + 1 hour travel time
4 MOVERS & TRUCK$139/HR
*Minimum Charge of 3 Hours Applies: 2 hours work + 1 hour travel time
Gerry's Moving
This family-owned company is a full service moving company that offers commercial and residential moving services in the Ottawa area. Existing since 1958, they have established a good reputation for reliable and honest service.
The company employs experienced movers and has all the right materials and equipment to pack and store your belongings for the move. Assembly and dismantling of heavy furniture can also be done for you, when needed. They provide a full range of moving services from packing, loading and unloading, and transport to your new location.
Find out more from Gerry's Moving at https://www.youtube.com/watch?v=pGU1I2i4KcY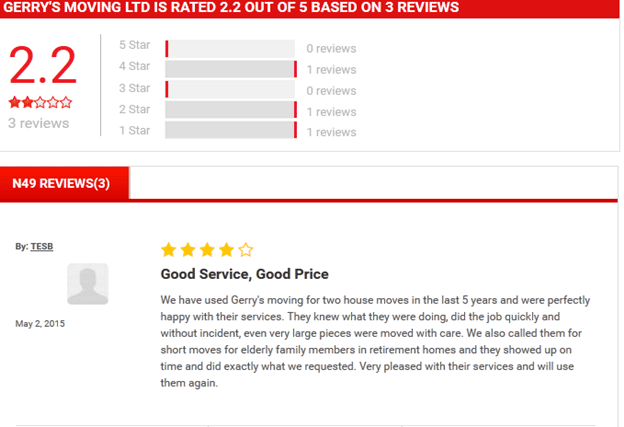 While there are not that many reviews on this company, they have been in business for a long time which is a positive factor.
Move Ottawa
This Ottawa based moving company offers a wide range of moving services that carefully coordinates every aspect of your move for a stress free experience. They help from the first stage of packing to the time you get to your destination.
Their services include packing, loading and unloading, commercial moving, local and long distance moving from Greater Ottawa to Greater Toronto, Montreal and nearby cities, and moving supplies.
Another good thing about this company is that they offer labor only (good for if you only need help with loading and unloading) and also hourly rates. Check out their published rates which can help you save on your moving costs.
Adam's Moving
This company is located in the heart of the city and is a family business that has been operating for more than 45 years. Whether you are making a local move or across Ontario, Adam's Moving is able to provide any and all moving services.
From moving supplies that are sold at reasonable prices to all kinds of moving needs, you can depend on this company for help. They service residential and commercial moves, provide moving equipment, and dispose of your unwanted items. They deliver boxes and also buy back used boxes to help you save on your move.
They provide discounted moving costs to senior citizens and physically challenged customers.
Ottawa Valley Movers
This moving company has been operating since 1993 and services commercial and residential moves in Ontario and Quebec. It prides itself in delivery efficient and safe moving services to its customers and is an expert at handling antiques, pianos and other special items.
With more than 15 years of experience as professional movers, they also offer delivery services. They can pick-up furniture or appliances and other heavy items for delivery to another location. They also provide special discounts to senior citizens and accurate and affordable moving estimates to customers.
According to Better Business Bureau rating, Ottawa Valley Movers meets accreditation standards and has been accredited since 1994.  For the length of time it has been operating, BBB has not received any complaints against this company, giving it a rating of A+.
Lloyd Empires Moving and Delivery
First established in 1985, this moving company offers several options for moving that would suit your needs. As a relocation specialist in Ottawa, they offer delivery and packing services that come with excellent customer service. They service local and long distance residential and commercial moves and offer reasonable rates. They offer trucks and movers complete with packing materials such as dollies, clean moving pads, floor runners, and shrink wrap as well as tools needed for furniture dismantling and assembly.
For your peace of mind, it helps to know that they are licensed and insured professional movers.
Below are their published rates:
With the choice of the whole package or just the truck or movers to help you pack and unload, you can really choose the option where you can save money and still enjoy a smooth moving experience.
Get 5 FREE Moving Quotes!
Compare Moving Companies in Canada & USA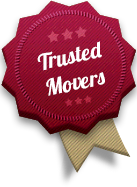 « * » indique les champs nécessaires
Parkview Moving Company
If you are looking for a reliable moving company with at least 15 years of professional experience, you might want to consider this Ottawa moving services. As a fully insured company and registered with WSIB, you have peace of mind that you are dealing with a reputable company. It services all of Ottawa and the surrounding areas and prides itself for attentive and efficient services.
The services they offer include free in-home estimate, same day service, emergency moving services, and available 7 days a week including holidays.
For seniors living in Ottawa, they offer unique and comprehensive moving services that would make transitioning to a new location such as a retirement community or assisted living facility stress-free and simple.
Should you need storage, it is good to know that they have a warehouse and has cover for $250,000 cargo insurance and $2 Million dollar liability.
Metropolitan Movers
This moving company has won the 2012 Consumer Choice Award and continues to strive for customer oriented service.  It has served thousands of clients in Canada and the United States, providing local, long distance, residential and commercial moving services.
Unlike other moving services, they customize their services to specific customer needs. They are able to address all kinds of moving concerns such as full packing services, packing supplies, vehicle shipping, and more.
You can find out more about this award winning moving company at https://www.youtube.com/watch?v=DPqOWXQVvTQ.  With 35 branches all across Canada, you know you are moving with an established and professional company.
King's Transfer Van Lines
This moving company was first established in 1992 and provides high value storage and moving services in Canada and the United States.  It is one of the oldest moving companies in Canada and has been in the family of the O'Donnells for more than 3 decades.
It services the Ottawa-Gatineau region for local, long distance, and international moves.  They opened their Ottawa office and warehouse in 1995 and has continuously provided clients with excellent moving and storage options.  They perform moving services with their own trucks and employ only professional crew for the job. It belongs to Atlas Van Lines Canada and is an expert at cross border moving to and from the United States.
You can find out more from https://www.youtube.com/watch?v=YaLavhsF8W0 about this well-established moving specialist.
JMR EXPRESS Moving
This is an ideal moving company for Montreal-Ottawa.  A family owned business with more than 35 years of experience as professional movers, it has provided thousands of short and long distance commercial and residential moves.  It has offices in Montreal, Ottawa, and Toronto.
Packing services for your belongings can be done for you before your move and transported to your destination promptly.  They can also provide storage for weeks or months, as desired in a temperature-controlled and clean facility.
The company makes trips between Montreal and Ottawa daily, providing you with an efficient option for transitioning to your new home.  If you are moving from Montreal, this company may be the one to do the job at the least possible cost.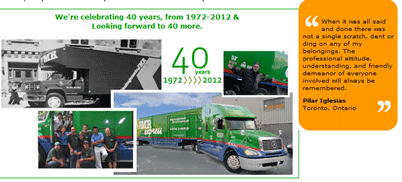 GS Express Movers
This company specializes in long distance relocation services for Ontario residents.  They service Toronto, Ottawa, Winnipeg, and nearby areas.  It has more than 14 years of experience in moving families across Canada.
They provide moving and storage services and guarantee to deliver your belongings safely and at your convenience.  The company handles residential, commercial and corporate moves.
5 Questions to Ask when Selecting a Moving Company
When you get a shortlist of moving companies to select from, it would be great to compare them using a checklist.   Prior to requesting a walk- through of your home, ask these questions on the phone.  Conducting a short interview of your potential moving company will help you to assess if they you're your needs.
1. Is the company insured/bonded?
Many moving companies are fully insured and bonded.  This gives you peace of mind during transport and storage of your belongings.  You should also verify their claim process and if there are any deductibles.
2. How long have they been operating?
It pays to go with moving companies that have the necessary experience in the industry.  These companies with long professional experience would have established a track record for their service and financial stability.
3. Is the company accredited with the Better Business Bureau?
While moving companies are not required to get accreditation with BBB, it pays to work with a company that is.  BBB provides a rating for these companies based on professional experience and customer feedback.  Some companies are given A+ rating, assuring you of their credibility and expertise.
4. Does the company have negative customer reviews?
Customer experience is one of the best guides for making hiring decisions.  It pays to check customer reviews for a company under your consideration.
5. Does the company provide a fair and transparent quote?
Make sure to hire a company that provides a fair and transparent quote to avoid being charged excessive additional fees.  You can ask the right questions to understand exactly what is covered by their moving quote.  Some companies provide binding quotes to assure that you pay the price quoted.
Compare best moving quotes Before Hiring your Movers
At https://www.5moversquotes.com, you can obtain the best moving quotes free.  You can use these quotes to find the most suitable moving company based on your needs.  You can be in control of your move when you are able to choose your movers based on specific criteria such as price, quality of service, location, experience, and more.
Below is a guide to what moving companies charge for their services as published on their websites and business listings.  They are meant to give you an idea of the most cost-effective services you can obtain.  They may not be binding quotes so it is best to request for a written quote from your selected movers. You can also check our article about how much does it cost to hire moving companies and movers in Ontario.
Parkview Moving
$125.00 per hour for 3 men and a 24-foot truck
$105.00 per hour for 2 men and a 24 foot truck
Lloyds Empire Moving
Two movers &18ft truck only $85/hour.
Three movers & 24ft or 26ft truck only $124/hour.
Move-Ottawa Movers
$105 an Hour for Two Movers and Truck
Minimum Charge of 4 Hours Applies
3 hours work plus 1 hour travel time
First Rate Movers
Two men and a truck with 20 foot box = $110/hr
(Minimum charge of 3 hours applies)
Adam's Moving
2 movers with truck/ $115/hr
3 movers with truck/$160/hr
4 movers with truck/ $205/hr
Pronto Movers
MOVERS ONLY$35/HR PER MOVER*
Minimum Charge of 3 Hours
2 hours work + 1 hour travel time
MOVER & TRUCK$69/HR
Minimum Charge of 3 Hours Applies
2 hours work + 1 hour travel time
2 MOVERS & TRUCK$89/HR
Minimum Charge of 3 Hours Applies
2 hours work + 1 hour travel time
3 MOVERS & TRUCK$119/HR
Minimum Charge of 3 Hours Applies
2 hours work + 1 hour travel time
When comparing the rates of moving companies, keep in mind that their prices may vary drastically depending on some factors. Some companies can quote a lower price but charge additional fees for supplies, insurance and other surcharges. An experienced and professional crew can handle a professional move in less time with zero damage compared to a less experienced crew from a fly by night company. While price is important, you must also protect yourself and your belongings by dealing with a licensed, reputable, and accredited member of good standing with the BBB.
You should also consider some specialty services/benefits offered by companies such as container rental, short or long term storage (in case your new address is not yet ready during your move), senior citizen discounts, labor only, and truck only. Customizing your moving service can really trim down your moving expenses.
How to Economize Your Move – Save with some Do it Yourself Tips
Whether you are moving to another city or downtown, you can save more money with some do it yourself tips. You can make the move less stressful if you organize well before the move.
Moving companies charge fees based on cargo weight, number of men needed, and vehicles provided. Get rid of unused items even if you plan to use a full service mover. The less you need to move, the more savings you can make. Find charitable organizations that can take your unwanted items or sell them before the move.
Find free packing supplies so you don't need to buy them. You can start saving large boxes early on from everyday purchases you make. You can also source boxes from businesses, offices, drug stores, and grocery stores. Movers charge for boxes so find some you can use to reduce expenses.
Do DIY packing and save on packing services. Moving companies offer packing services for a fee. If you can pack your own stuff, taking care to pack well for the transit with bubble wrap or foam, you can trim down moving costs. This is a great idea for people who have sufficient time to plan their move well.
Moving companies are usually busy during the summer months. Moving during off-season can guarantee you lower moving rates.
Some people don't want to move by driving a large truck to a far-off destination. If you are one such individual, you can choose a truck-only option. It is possible to get a moving company to provide you with the container to fill with your belongings until it is ready to be driven to your new address.
Get as many quotes for comparison from www.5moversquotes.com. Prices vary among different movers so compare and choose the most advantageous quote based on your needs. Weigh movers' reputation, responsiveness, and availability.
Understanding Insurance for Your Belongings – How does it work?
When you interview moving companies, many of them will be proud to say they carry insurance and bond that assures you of their legitimacy and protection for your belongings. Sadly, though, this is not 100% true.
Even when you know you are hiring a top rated moving company, it pays to protect yourself.
The first thing you have to do prior to your move is to check your home policy if your belongings are covered during transport and what is deductible, if any. If your policy does not provide for "All risks", you may be exposed.
Ask your potential moving company about the cost of Replacement Value protection. With this kind of protection, the company is legally liable to the maximum amount estimated as the value of your belongings for transport. You need to make sure that the total amount indicated is sufficient to cover all your furniture and personal belongings and that the amount is not depreciated value only.
Request the moving company to provide you with written information about making a claim, including the time period for processing such claims.
Determine the difference between liability of owner-packed and mover-packed boxes. In many cases, moving companies disclaim responsibility for broken or damaged goods that they did not pack.
If you decide not to buy replacement value protection, the moving company is generally liable for up to $.60 per pound or an item lost or damaged. (ex: for a TV set damaged during transport, that would be about $30 only)
Planning Relocation to Ottawa – Helpful Resources
If you are planning to relocate to Ottawa in the near future, you need to plan a lot of things to ease your transition. You would need to check out schools for your kids, housing to rent or buy, and a job. There are many resources that can help you make this transition smoothly.
Housing in Ottawa
If you are buying a new home in Ottawa, you may be interested to know that a residential property's average sale price in the Ottawa area is $379,946 while a condominium class property has an average price of $244,801.
According to statistics, most home buyers from Ottawa spend an average of the $300,000 to $400,000 for a residential property while a minority spends about $200,000 to $300,000.
http://www.ottawaliving.ca/
This link is a local housing website that provides useful information for finding housing opportunities in the city. From apartments, condos, to other residential properties, you can get a clear idea of living costs. Ottawa has many housing options and excellent choices for young families.
http://www2.ottawarealestate.org
You can connect with Ottawa Real estate Board for property listings and get a list of accredited local agents to help you sell or buy your home.
Notifying Authorities about your change in address
When moving, it is important to notify the right authorities about your new location. You must inform federal, provincial and territorial agencies to avoid problems with the payment of your benefits. Below is a link that provides the resources and a checklist for changing your address when you move.
Finding the right school for your kids
Ottawa offers a high quality education system with a wide array of public and private schools. The region has 6 colleges and universities and many technological institutions for professional development. There are abundant opportunities for learning English and French for its multi-cultural population.
It can be challenging to choose the best school in Ottawa as there are myriad choices for private and public schools. You can use the above links to find out more information about top schools in the region.
Finding employment
90% of Canada's research and development for the industrial telecommunications industry is conducted in Ottawa, making it one of top 5 sites for Canada's R & D. More than 7 million visitors come to Ottawa annually with an expenditure of over $1.3 billion.
The City of Ottawa is also its largest employer, offering hundreds of job opportunities to qualified residents. It adheres to employment equity for a diverse workforce that serves its multi-cultural population.
Armed with all these information, you are in a better position to plan and execute your move to Ottawa. You can use it as a checklist to make sure you don't forget anything and that you make your move as efficient and economical as possible.
You can get a good idea of your moving costs today by clicking on www.5moversquotes.com, interview your movers and request for a written moving quote from your selected moving company.
Pleasurable Living Awaits You in Ottawa
When you have finalized everything related to your move, you can have time to dream about the new life waiting for you in your new city. There are many things to look forward to in Ottawa.
Ottawa has been ranked as the best city to live and work in Canada. It offers a great quality of life, work opportunities and a perfect environment to raise a family.
From the symbolic Parliament Building to the ever-popular Rideau Canal, you won't run out of things to do. One unique attraction is the Cumberland Heritage Village Museum that has dozens of heritage and true to the era reproduction buildings for a fun and educational experience for the entire family. There are a number of museums and galleries, naturally beautiful scenery that you can bask in and a vibrant nightlife. Also found in Ottawa is any cyclist's haven – more than 170 km of pathways to ride without traffic.
You now have the bigger picture. You have the resources to make your move as efficient as possible. By obtaining your moving quotes from www.5moversquotes.com, you are in the right place to get your move done right.
Get 5 FREE Moving Quotes!
Compare Moving Companies in Canada & USA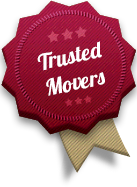 « * » indique les champs nécessaires